Ventura DLX 3-Wheel
Standard 33 AH batteries for up to 16 miles per charge with a 400 lb. weight capacity.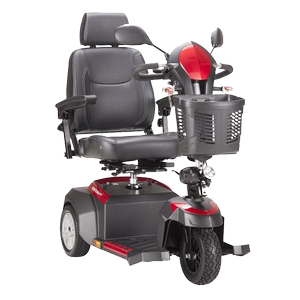 Drive Medical
(Model No. VENTURA320CS)
VIEW ITEM
More Information on the Ventura DLX 3-Wheel
BACK TO TOP
Reviews
Viewing 1 - 3 of 3
04/02/2017
Strengths:
The tiller, the seat, the ride.
Weaknesses:
Definitely disappointed in the range of battery charge. Didn't expect to get the 20 miles promised, but expected more than 5.
Reviewer:
jacque h. from freemont, ca
User Details:
I have asthma, and can't walk very far. Large woman who loves to be out.
08/05/2016
Strengths:
Durable & sturdy
Weaknesses:
It's noisy compared with the Go go Ultra I had before.
Reviewer:
charles h. from washington, dc
User Details:
I'm diagnosed with Parkinson disease and needs a scooter for my outdoor activities like going to nearby stores and restaurant with my wife.
Ventura DLX 3-Wheel: Review
06/12/2013
Strengths:
all the features are great and looks very good
Weaknesses:
for a all terrain scooter the height is very low and the speed is real slow like a shopping cart.
Reviewer:
jeff v. from aberdeen, wa
User Details:
49 I have Tay Sachs,. have a very hard time walking