Aero T Rigid
Swept-in, dual-tube frame incorporates TiLite's Tru-Fit System with front and rear seat heights adjustable in 1/2" increments.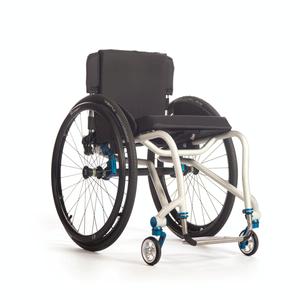 More Information on the Aero T Rigid
BACK TO TOP
Reviews
Viewing 1 - 4 of 4
Excellent chair, well suited to my needs.
01/14/2021
Strengths:
Well built, lightweight frame.
Weaknesses:
Would like more padding around the tubing at top of the seat back, in front of the push handles.
Reviewer:
jim m. from cantonment, fl
User Details:
Active 76 year old male. I have problems with periodic loss of coordination and balance.
Awesome, awesome, awesome!!!!!
11/15/2015
Strengths:
I love that this is a "TiFit" but still has adjustments that can be made to tweak it the way you want; such as rear wheel height, center of gravity, front wheel height and adjustable foot plate height. This thing is whisper quite!! My wife joked how I can now sneak up on her and have startled her a few times. The push rims are the thick oval shaped ones (the brand name has slipped my mind), but they fit my hands perfectly. The 26" wheels cover so much distance with one push it's just insane! :-) I never usually use brakes and actually took them off my other chair. But the brakes on my new TiLite Aero T are so easy to lock and unlock, I kept them on. Because the chair is so smooth and rolls so easy, I find myself using them all the time.
Weaknesses:
I haven't found any weaknesses on my chair thus far.
Reviewer:
shaun c. from martinsburg, wv
User Details:
36-year-old; sci injury. Level of injury: L1. Auto accident 3 years ago.
Great chair with a couple minor flaws
11/15/2014
Strengths:
The chair fits perfectly and all the accessories are very high quality and fit/finish is excellent.
Weaknesses:
Assembly was a little sloppy; there was a loose screw (or piece of weld material) rattling around in the frame. I was able to remove it by shaking the piece down to the footrest but it took some time and was frustrating. Additionally, there is some metal-on-metal noise coming from the caster-mounts and the backrest - but it is infrequent enough not to be too much of a bother.
Reviewer:
michael b. from south bend, in
User Details:
Male - 30 yrs old - lower back deformity at birth.
An excellent lightweight wheelchair.
10/06/2014
Strengths:
Solid frame, lightweight.
Weaknesses:
None at this time.
Reviewer:
allan g. from grass valley, ca
User Details:
Not provided