Retractabed Quick-Ship Bed Frame
Made in America, the Retractabed stores easily, lowers to 8.5" from floor and ships in just 2 days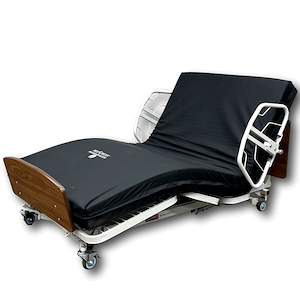 More Information on the Retractabed Quick-Ship Bed Frame
BACK TO TOP
Reviews
Viewing 1 - 5 of 5
Pump runs constantly annoying
03/01/2022
Strengths:
Versatile and mobile low profile
Weaknesses:
Interface with Amazon alexa echo device needed. Soft touch remote control needed.
Reviewer:
michael h. from o'fallon, mo
User Details:
Individual has advanced multiple sclerosis. He is paraplegic and would rather have a soft touch remote control and or better yet interface with Amazon
The bed is a quality product.
06/16/2018
Reviewer:
george h. from warrenton, va (caregiver)
User Details:
My wife is disabled and usually either in a bed or a wheel chair. She requires the use of a lift to transfer between the bed and wheel chair.
Just right, while using other aides to help get me out of...
05/12/2018
Strengths:
Adjustable, safe and easy to use.
Weaknesses:
Needs a lower safety rail.
Reviewer:
roberta c. from anaheim, ca
User Details:
MedMizer retractable bed with air mattress is perfect for keeping unwanted skin sores from getting out of control.
Mostly meets expectations
09/06/2017
Strengths:
Comfortable mattress
Weaknesses:
Does not lift feet high enough.
Reviewer:
caleta l. from the woodlands, tx
User Details:
76 year old female with bk amputation
01/20/2014
Strengths:
It moves the body naturally.
Weaknesses:
The footboards and headboards are a bit too low. My feet want to slide off.
Reviewer:
teresa g. from germantown, oh
User Details:
50, CMT, prone to bed sores