Retractabed Quick-Ship Bed Frame
Made in America, the Retractabed stores easily, lowers to 8.5" from floor and ships in just 2 days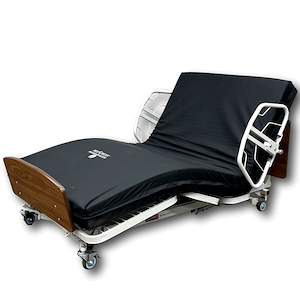 More Information on the Retractabed Quick-Ship Bed Frame
BACK TO TOP
Reviews
Viewing 1 - 12 of 14
08/19/2023
Strengths:
The first one I have that goes up and down.
Reviewer:
rodd v. from patterson, ca
User Details:
Not provided
the Med Mizor Retractable Bed
08/12/2023
Strengths:
It's a nice design;  I like the remote control that lifts up or lets down the entire bed frame; the headboard; 
Weaknesses:
I could not figure out how to flatten the bottom section of the bed frame.  So, the company sent an email to me that included a 30 second video that demonstrated the simple process.
Reviewer:
tamara m. from decatur, il (caregiver)
User Details:
I'm the spouse of the Veteran who uses the bed.  I'm a Senior in my 70's.
Dad Loves his new bed! Comfortable and safe with rails and...
06/24/2022
Strengths:
Easy to use controls and easy to move on wheels.
Weaknesses:
100% satisfied with this bed!
Reviewer:
mary r. from california, md (caregiver)
User Details:
87 year old man
Pump runs constantly annoying
03/01/2022
Strengths:
Versatile and mobile low profile
Weaknesses:
Interface with Amazon alexa echo device needed. Soft touch remote control needed.
Reviewer:
michael h. from o'fallon, mo
User Details:
Individual has advanced multiple sclerosis. He is paraplegic and would rather have a soft touch remote control and or better yet interface with Amazon
Retractabed Quick-Ship Bed Frame: Review
08/08/2021
Strengths:
Doses the job in the care to make my life easier
Weaknesses:
Didn't have the bed rail s could have used them
Reviewer:
joan c. from townsend, de
User Details:
Not provided
Happy to have a safe, comfortable, place to rest.
07/06/2020
Strengths:
Mattress comfort is welcome relief to sore hips and shoulders. Sleep improved. Can transfer to WC without assistance. I don't worry about skin breakdown. Good for anyone who spends a lot of time in bed. Simple controls. Can move bed on low Carpet alone.
Weaknesses:
Bed was bolted to very heavy wooden pallet. 2 Very strong people needed to get bed off pallet & in house. No instructions about how to best move it. Nowhere does it say how much it weighs.
Reviewer:
maureen s. from rolesville, nc
User Details:
110lb 62 yo F, former RN w Secondary Progressive MS. FT wc user. Can make transfers unassisted Now. Bed easy to use, comfortable, safe, attractive.
What I expected from SpinLife.
07/20/2019
Weaknesses:
Have not found any yet.
Reviewer:
riccardo m. from henderson, nc (caregiver)
User Details:
legs poor circulation swelling ulcers a lot of pain
The bed is a quality product.
06/16/2018
Reviewer:
george h. from warrenton, va (caregiver)
User Details:
My wife is disabled and usually either in a bed or a wheel chair. She requires the use of a lift to transfer between the bed and wheel chair.
Just right, while using other aides to help get me out of...
05/12/2018
Strengths:
Adjustable, safe and easy to use.
Weaknesses:
Needs a lower safety rail.
Reviewer:
roberta c. from anaheim, ca
User Details:
MedMizer retractable bed with air mattress is perfect for keeping unwanted skin sores from getting out of control.
Mostly meets expectations
09/06/2017
Strengths:
Comfortable mattress
Weaknesses:
Does not lift feet high enough.
Reviewer:
caleta l. from the woodlands, tx
User Details:
76 year old female with bk amputation
Retractabed Quick-Ship Bed Frame: Review
04/21/2017
Reviewer:
dagni g. from gilbert, az (caregiver)
User Details:
physical disability
11/15/2015
Weaknesses:
Delivery; one man delivered the product and had trouble getting it into the house and then was not available to set the product up - we had to seek outside help
Reviewer:
lisa d. from houston, tx (caregiver)
User Details:
Elderly woman requiring better access to getting out of bed