TR Series 3
The lightest weight titanium rigid frame available with a modern swept-in dual-tube frame.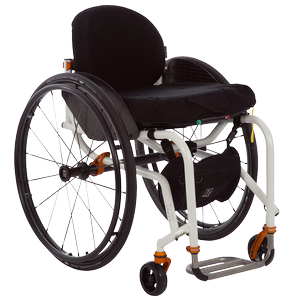 More Information on the TR Series 3
BACK TO TOP
Reviews
Viewing 1 - 12 of 18
03/03/2023
Strengths:
Has back support
Weaknesses:
Not assembled properly
Reviewer:
claudette m. from burnsville, nc
User Details:
Age 37 spina bifida
06/19/2020
Strengths:
Design, quality of workmanship and a very complete owner's manual.
Weaknesses:
I know of none.
Reviewer:
thomas s. from canton, oh
User Details:
Not provided
12/26/2018
Weaknesses:
The composite breaks are very difficult to operate
Reviewer:
pani h. from south maimi, fl
User Details:
It's very practical as I wanted
Fantastic lightweight chair.
12/19/2018
Strengths:
Lightweight and excellent finish...good looking chair too
Reviewer:
thomas s. from pensacola, fl
User Details:
I have been in a wheelchair for many years and have used about all the manual chairs on the market. This TiLite chair is excellent.
Extremely lightweight, durable and practical to use.
03/29/2016
Strengths:
The strengths of the TR3 are: The light weight rigid frame make it easy for anyone that has a car. The stain resistant material of the backrest and cushion is an excellent feature not to mention how light they make the chair.
Weaknesses:
none found yet.
Reviewer:
giorgio s. from miami, fl (caregiver)
User Details:
My brother's incomplete spinal injury was originally at the C3-C7 level and now is believed to be at the T-10. He is 6'1" and weighs around 195
Met my needs thanks to the SpinLife Rep
10/30/2015
Strengths:
The chair is very stable with a good center of gravity. Because it is so light, it is easy to push. My TiLite is very lightweight - only 16 pounds. I have one good leg to stand on outside the car. I can fold the seat down and lift the chair into the tailgate of the car. If necessary, the wheels are removable with a push of a button. The can be placed in the back seat and the 9.3 pound frame can be lifted from the driver's seat into the back. Make sure you lubricate the wheel axles with the dry lubricant suggested in the manual. Stan, the Spinlife representative that assisted me was spectacular and well-versed in suggesting certain details on the chair. I was nervous about purchasing a custom, non-refundable product over the internet, but I am quite satisfied.
Weaknesses:
The backrest is low and doesn't give me the support of my heavier Breezy Ultra chair.
Reviewer:
holly w. from cromwell, ct
User Details:
Age 64, Post-Polio Syndrome, paralysis of one leg.
Great product and company, TiLite
12/12/2014
Strengths:
Very lightweight and durable. Easy to lift and store in the trunk of my SUV
Reviewer:
mike v. from carlsbad, ca
User Details:
Spastic Paraplegia, 63
12/04/2014
Strengths:
omfort, and durability
Weaknesses:
Have not found any at this time.
Reviewer:
timothy g. from lakeland, fl
User Details:
55 years old, chronic pain, Lupus, Fibromyalgia, heart problems
08/28/2014
Strengths:
Lightweight, and good help in placing my order
Weaknesses:
I ordered swing away arms on mine, but you forget to put them on it took another month to get them and then I had to mount them
Reviewer:
johnny m. from dekalb, ms
User Details:
56 year ol, ,male, paraplegic
Amazingly light weight and maneuverable.
02/27/2014
Strengths:
This is a quality built to order wheelchair MADE IN THE U.S.A! The number of options is outstanding. I opted for a conservative finish with no flashy colors and am getting positive feedback on how this chair "is not as noticeable" - as a small person wheelchairs tend to swallow me up.
Weaknesses:
A minor issue out of the box with a front caster was addressed quickly and professionally. I truly appreciate the customer service from TiLite considering this is an online order vs a purchase from a DME dealer.
Reviewer:
jennifer s. from osage beach, mo
User Details:
54 yr old female T-12 paraplegic from Spina Bifida living in rural Ozark hills of Missouri.
Excellent product hand built in America. What more could...
01/23/2014
Strengths:
Weight, design, ease of use, balance and roll properties
Reviewer:
charles b. from lomita, ca
User Details:
I am a 68 year old with severe RA and some orthopedic problems. I can stand and walk a short distance.
11/16/2013
Reviewer:
maria e. from pembroke pines, fl (caregiver)
User Details:
34 years old, male. Paraplegic.