MVP-502 Ergonomic
Ergonomic design and great standardized features for a customizeable fit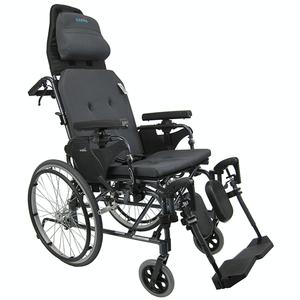 Karman Healthcare
(Model No. MVP-502)
VIEW ITEM
More Information on the MVP-502 Ergonomic
BACK TO TOP
Reviews
Viewing 1 - 3 of 3
Very pleased with this product.
04/03/2018
Strengths:
The reclining back, an easily removable headrest, easy-to-adjust elevated leg rests, all while being lightweight and easy to transport and comfortable. While she is not able to propel herself in the chair, the option of larger wheels to allow her to adjust the positioning of the chair was a major deciding factor.
Weaknesses:
The seat width is adequate, but if a 22/24 inch width had been offered, we would have preferred it. We did not opt for the thicker seat cushion as she already had one, but if spending extended time in the chair, the cushion that comes with the chair would not be adequate for comfort.
Reviewer:
marla l. from bryant, in (caregiver)
User Details:
91-year-old mother-in-law in a nursing care facility no longer has the use of her legs. This wheelchair allows her more mobility and greater comfort.
High priced, but comfortable
05/23/2017
Weaknesses:
Cup holder doesn't fit, and pretty pricey
Reviewer:
linda c. from san antonio, tx (caregiver)
User Details:
Blind, and bed ridden
Cadillac of wheel chairs.
07/22/2016
Strengths:
The ability to recline the person for a more comfortable position. Also, being that the arm rests lift up, it's easier to slide the person onto the seat in the car. Oh, by the way, she really liked being outside in this chair. Her previous chair was a cheap, Medicare, transport chair. It was not a very good chair for her.
Weaknesses:
The very first time I brought my wife outside in this chair, it became very obvious this chair needs a hood, like the one's on baby strollers.
Reviewer:
fred a. s. from albany, ny (caregiver)
User Details:
Wife. 69 years old. Disabled. Stroke/Alzh. patient.