MVP-502 Ergonomic
Ergonomic design and great standardized features for a customizeable fit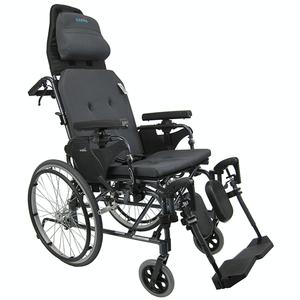 Karman Healthcare
(Model No. MVP-502)
VIEW ITEM
More Information on the MVP-502 Ergonomic
BACK TO TOP
Reviews
Viewing 1 - 3 of 3
06/05/2021
Strengths:
Comfort, maneuverability
Weaknesses:
Portability is not good. Difficult to disassemble and reassemble.
Reviewer:
lee h. from cuyahoga falls, oh
User Details:
Cancer patient with pulmonary fibrosis whose mobility has been compromised by spinal stenosis.
Great quality, needs to fit the user in a very specific way
02/05/2017
Strengths:
Great quality, some good features, i.e., reclining, leg-rests lifting, will last a long time. Adjustable tension of back and seat.
Weaknesses:
Hard to maneuver on rugs, leg rests are not flexible, leg rests have uncomfortable design (need cushioning), leg rests are hard to put on and off. Arm rests are set too high to begin with - the lowest is still too high (not comfortable in reclined position). Original pads are too skimpy.
Reviewer:
james r. m. from rochester, ny (caregiver)
User Details:
81 yo male with Parkinson and other conditions. 6 ft tall, 175 lbs. He usually sits in this chair for 1-2 hours a time, twice a day.
Super comfortable, lightweight, high quality reclining...
05/25/2016
Strengths:
I have the pads that it comes standard with, and the chair is super comfortable -- almost like a Laz-E-Boy recliner! The chair is also lightweight and of very high quality.
Weaknesses:
The wheel base is longer than other reclining wheelchairs I've used, for stability while reclining, no doubt. But that, in combination with the 22" wheels (which are smaller than on other manual wheelchairs), makes the chair somewhat bulky and difficult for the user to maneuver. Most of the time I have someone pushing me, so this is not a major problem. Also, it barely fits on my Harmar Tilt'n Tote car rack -- a problem I didn't anticipate.
Reviewer:
susan h. from campbell, ca
User Details:
I'm a 60-year-old woman who needs a reclining wheelchair because of a spinal cord injury that requires me to remain in a reclined position.