Afiscooter S 4-Wheel
5" high ground clearance is great for use on paved, uneven and even wet surfaces.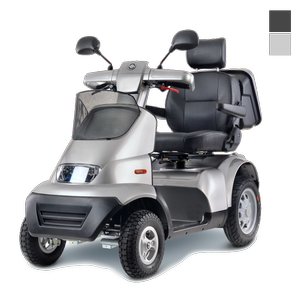 More Information on the Afiscooter S 4-Wheel
BACK TO TOP
Reviews
Viewing 1 - 12 of 30
easy to use and lots room.
11/06/2020
Strengths:
its large and roomy. fast and its like riding on a cloud.
Weaknesses:
the horn i low. white glove is poor. Mirror where lose and rear tires needed air.
Reviewer:
walter g. from west windsor, nj
User Details:
69 years old. I had a stroke and heart attack.
Excellent and very easy to operate.
08/04/2020
Strengths:
Length of battery before recharging is great. Turn signals and other lights are great. Hand accelerator and brake are very responsive. The size of the scooter is excellent - we fit it into only half of one garage stall and are able to have a lot of space.
Weaknesses:
One thing I would have liked, is a louder horn.
Reviewer:
steve s. from myrtle beach, sc
User Details:
My wife and I both use the scooter to travel to the community mailboxes and through the neighborhood in our Golf course communities where we live.
06/15/2020
Reviewer:
fritz n. from wesley chapel, fl
User Details:
FUN to use in yard and just down the street.
Afiscooter S 4-Wheel: Review
04/19/2020
Strengths:
The wheels are really good on the 4 wheel
Reviewer:
glenda s. from brady, tx (caregiver)
User Details:
the user is 82 and does not have a lot of use of his legs . it is very nice for him to get around
A good decision on my part.
03/19/2020
Strengths:
Size, construction, versatility.
Reviewer:
mike d. from st. simons island, ga
User Details:
My name is Mike i,m 82yrs had to sell my car also my 3wheel bike needed to get out and get some fresh air The Afiscooter S4 was the answer.
This one is built better, use more often, is better almost...
02/07/2020
Strengths:
The comfort of it as made for sitting, the roof and window protect sun and bugs. Also, it will not move until the charge unit is off of it, very important. Two different speeds nice. White glove delivery worth it. I got the regular wheels.
Weaknesses:
I have not found any to add.
Reviewer:
jan l. from bartow, fl
User Details:
I am a retired nurse and a veteran this is a scooter I have ordered as first at age 42, now 70yrs.
12/14/2019
Weaknesses:
May be difficult if a flat tire requires repair.
Reviewer:
c. r. t. from santa fe, nm
User Details:
76 year old male with bad ankle
11/28/2019
Strengths:
Ease of use, well constructed and and ability to use all day.
Reviewer:
c. r. t. from santa fe, nm
User Details:
76 year old male with a weak ankle and a large property.
Quality Product with Some Reservations
10/25/2019
Strengths:
Seems to be well built. Quite fast on level and moderately hilly pavement, grass or gravel. Extremely comfortable 24in seat. Speedometer reports 11.5 mph on level terrain and maintains around 9.5 going up most hills with 400 pound rider.
Weaknesses:
Scooter does not do well off road except on grass for this 400 pound rider. Riding a woody path behind my house is problematical. The route is hilly and the scooter will not climb the hill as slowing down for the uneven terrain causes it to stop and once stopped it will not start up again and must be hand walked out. Very disappointed as this is one of the reasons I purchased it. It was also delivered with a missing part and a broken part but this was resolved within a month with a scooter repairman. He was unable to fix the lock box on the scooter but I figured out how to do it and now all is well. Also needs to have a much better manual and a Tech Manual provided. PLEASE!
Reviewer:
charles e. from bowling green, ky
User Details:
Disabled veteran neck[c3-c7] and lumbar[L3-S1] laminectomies with resultant severe neuropathy, numbness and weakness and numerous other maladies.
My daughter loves her Afiscooter. It has given her...
10/09/2019
Strengths:
Battery life, fully hand controlled, ease of use, good looks.
Reviewer:
constance h. from st louis, mo (caregiver)
User Details:
Young adult female with limited mobility due to a spinal cord injury.
Love my scooter! The turning is a bit tight going through...
08/01/2019
Strengths:
Rugged. We love nature and this is a perfect fit for us.
Weaknesses:
It squeaks! The turning is a bit tight. The cup holder is useless.
Reviewer:
diane m. from seminole, fl
User Details:
Not provided
I think it was a show room sample or well used, bolts were...
10/29/2018
Strengths:
Absolutely none, being a mechanic for 53 years it was a waste of money and a piece of junk, and those are the good qualities...the bad qualities are missing nuts and bolts, torn seat, battery cover loose, one dead battery, rub marks and missing parts. And it looks like I was sold a used floor model or a cobbled piece from some back room.
Weaknesses:
Just about everything it should only sell for $600.00 to $700.00 or taken off the market. I Am still waiting for a new seat, and missing parts ordered from Israel. One battery was no good and they sent me two new ones... The seat was ripped there were 2 bolts missing from the seat back stabilizer. Every battery cover hand screw was loose.
Reviewer:
gary c. from las vegas, nv
User Details:
69 year old a mechanic for 53 years...and restored well over 200 cars and rebuilt well over 350 car engines, owned 7 businesses. Never ran into junk