Jay Union
A Visco foam top layer and gel fluid middle layer make this cushion perfect for evenly distributing your weight.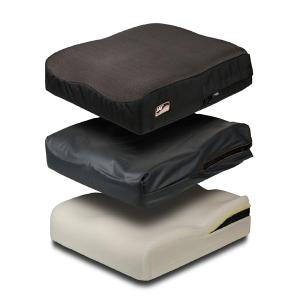 More Information on the Jay Union
BACK TO TOP
Reviews
Viewing 1 - 6 of 6
This cushin is well made but very expensive
01/17/2018
Strengths:
Comfortable for medium term sitting.
Weaknesses:
Could have been made higher in the back of cushion so one is not sitting in a depression.
Reviewer:
craig c. from longview, wa
User Details:
I am 62 and a paraplegic able to transfer on/off the chair unassisted.
06/12/2017
Strengths:
Up to date materials and technology
Weaknesses:
Haven't found one
Reviewer:
thomas r. from stanhope, nj
User Details:
Disabled 70 year old
This is a comfortable, stable cushion.
10/18/2015
Strengths:
I purchased the reduced profile cushion. I like the memory foam which I find fairly comfortable. I used the Jay Extreme cushion before and like this one better.
Weaknesses:
Due to the fact that the memory foam compresses, the cushion cover becomes too big so that when I transfer, the cushion slides over too much. I ended up putting the Union cushion in my old Extreme cover and that seems to help alleviate the problem. Full disclosure, I transfer in and out of my chair many times a day and I do not get the highest lift of my bottom on transfers so if you get a high lift on transfer it may not be an issue for you.
Reviewer:
jennifer b. from candia, nh
User Details:
40 years old female quadriplegic who is active.
07/24/2014
Strengths:
Comfort, no sweating, solid construction.
Weaknesses:
Weight, awkward to handle.
Reviewer:
james r. from tehachapi, ca
User Details:
Disabled vet, spinal cord degeneration and stenosis.
My wife and I love this cushion.
04/13/2013
Strengths:
Ease-ability to apply to power chair and durability of material and stability.
Weaknesses:
The price is a little high but for what it accomplishes it is very cheap.
Reviewer:
billy b. from colorado springs, co (caregiver)
User Details:
For my wife's power chair....it is much more comfortable for her.
06/06/2012
Strengths:
pressure sore prevention and protective 2nd layer cover under outside cover.
Weaknesses:
weight and height
Reviewer:
ken o. from saint charles, mo
User Details:
Product is well made. Had ROHO air chamber as first cushion after accident to paraplegic. Too many troubles with loss of inflation after 2 years of us