Breast Cancer Awareness Rollator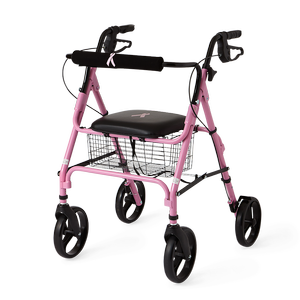 More Information on the Breast Cancer Awareness Rollator
BACK TO TOP
Reviews
Viewing 1 - 9 of 9
This walker gives you the support you need.
08/02/2021
Strengths:
The easyness of transporting and the comfort of using it. The unit rolls for you and the brakes are easy to put on, I love it very much and have already told my Senior Friends they need one.
Weaknesses:
There are none for me.
Reviewer:
dorothy s. from willis, tx
User Details:
I am 87 years old and had a bad fall, so when I leave home I take my walker with me and walk safe. My Granddaughter got this for me and I love it,
06/17/2020
Strengths:
I am very satisfied with the service I received
Reviewer:
marva p. from hampton, va
User Details:
I am using the item to get around with and find it to be a good source
07/08/2018
Weaknesses:
I like the big wheels, but they take getting used to. I would trip over the wheels because I was used to smaller wheels. OK now.
Reviewer:
susan r. from san jose, ca
User Details:
I needed a second walker after hospital stay. Sturdy. Heavy with big wheels you need to be careful of, but I love this walker.
04/13/2017
Strengths:
Great walking tool
Reviewer:
william t. from odenton, md
User Details:
Age 87 used for walking in malls and park
Celebrates her 23 years of being a cancer survivor.
01/19/2017
Strengths:
Solid sturcture, attractive and has a padded seat, if needed and storage.
Reviewer:
joy r. from buckeye, az (caregiver)
User Details:
My 88 year old Mother has Dementia. Due to age and medications she is a little unsteady. She is just using the quad cane you sent. Loves it.
Great and sturdy easy to use
10/20/2016
Reviewer:
connie m. from la verne, ca
User Details:
Not provided
Breast Cancer Awareness Rollator: Review
05/09/2014
Reviewer:
kimberly w. from stuart, ia
User Details:
47, bone deterioration
Brakes are very hard to use
01/27/2014
Strengths:
It looks great and the seat is ok.
Weaknesses:
The brakes and the steering is stiff
Reviewer:
susan l. from las vegas, nv
User Details:
I have had thyroid cancer and now MS, I like the walker but the brakes are very stiff.
I love the walker & use it often.
10/28/2013
Strengths:
Being able to sit when I need to while shopping.
Weaknesses:
Sort of large to put in car.
Reviewer:
billie b. from oliver springs, tn
User Details:
My age is 58, I had breast cancer in 2009 & I am a diabetic. I have neuropathy & problems from my chemo treatments.
Popular Related Products