Single Fold Ramp with Carry Bag
Lightweight ramps come with a carry bag that is perfect for transportation or storage.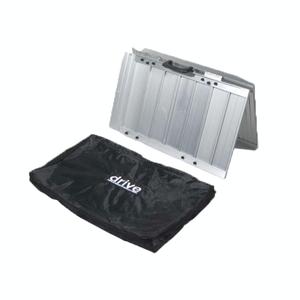 More Information on the Single Fold Ramp with Carry Bag
BACK TO TOP
Reviews
Viewing 1 - 5 of 5
10/03/2019
Strengths:
Use the ramp to enter and exit my residence all the time.Easy to move around and set up.
Reviewer:
jimmie b. from houston, tx
User Details:
Not provided
The folding ramp allows me to get over the dip at end of...
07/13/2014
Strengths:
Well made, with built-in carrying handle, and is easy for my caregivers to unfold and put in place. Has a nice carrying case that zips around it when it is not in use.
Weaknesses:
It is a little too heavy for me to handle from my wheelchair, so someone has to put it in place for me. Not too much of a drawback.
Reviewer:
barbara h. from clarksville, tn
User Details:
80 years old, disabled (paraplegic due to TM - transverse myelitis - which damaged my spinal cord several years ago). Can't stand or walk.
05/16/2012
Strengths:
Easily folds and unfolds.
Weaknesses:
If you do not put it back in the bag, it squeaks when you are driving down the road.
Reviewer:
janette h. from rosenberg, tx
User Details:
mid 60s, use the ramp to load and unload travel scooter in SUV without having to take the scooter apart. With ramp one person can load or unload.
Single Fold Ramp with Carry Bag: Review
04/28/2012
Weaknesses:
Design only allows ramp to be used on doors that open "in". If the door opens "out" the side rails stop the door.
Reviewer:
victor m. from harrisburg, pa
User Details:
Male, 61 yrs., limited mobility.
11/21/2010
Strengths:
light weight and easy to handle
Reviewer:
victor m. from harrisburg, pa
User Details:
Not provided