Ascent
Adductors, abductors and an anti-thrust shelf create contouring for proper postural positioning.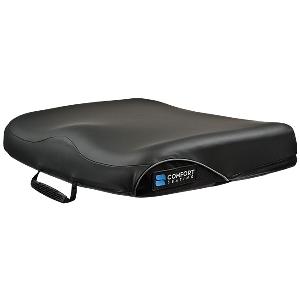 More Information on the Ascent
BACK TO TOP
Reviews
Viewing 1 - 12 of 27
04/16/2021
Reviewer:
harold b. from port st. lucie, fl
User Details:
74 year old man with fractured ankle
Great feeling on the rump.
11/25/2020
Strengths:
The way it is made
Reviewer:
richard m. from chicago, il
User Details:
Super cushion
01/18/2020
Strengths:
It is a quality product
Reviewer:
mona d. from alpena, mi
User Details:
87 year old female that has an aka amputation that is not able to use a prosthesis.
01/12/2019
Strengths:
Foam holds up longer.
Weaknesses:
Haven't had the seat long enough to decide.
Reviewer:
marco r. from manahawkin, nj
User Details:
Great seat conforms to your legs & button comfortably all day.
Very good cushion for her needs.
10/01/2018
Strengths:
Molded to fit. Fits her chair well without movement.
Reviewer:
tommy r. from lenoir, nc (caregiver)
User Details:
My wife is 71 and has MS. Very important for her to have a comfortable cushion in her chair. This one works very well for her.
Comfort Company Ascent cushion is very comfortable made...
05/07/2018
Strengths:
The multi-density contoured foam seat with coccyx cutout is great for someone who needs all day comfort in a wheelchair. I tried other cushions that weren't as comfortable even for a couple of hours. Absolutely well worth the cost.
Weaknesses:
the stretch air fabric cover is nice but, it is very slippery with certain types of fabric and it doesn't wipe off very easily. I didn't like having to pay an up-charge to get the rigid insert considering what it's made of. If it was made out of stainless steel or titanium I would have bought it. The self adhesive Velcro squares on the bottom of the cushion that are supposed to stop it from slipping on the wheelchair seat are all but useless. Some other material that works with any type of surface would be better.
Reviewer:
otis s. from west allis, wi (caregiver)
User Details:
Wheelchair bound double amputee that is susceptible to boils and sores.
02/02/2018
Reviewer:
marilyn w. from normal, il
User Details:
I am a seventy-two year old woman who is an amputee. I love my new Ascent foam wheel chair cushion.
Firm but comfortable. Used about 12 hours a day.
12/13/2017
Strengths:
ease of use and firmness
Weaknesses:
Need cover that will breathe due to bare skin and body heat
Reviewer:
raymond t. from bernalillo, nm
User Details:
Male at the age of 84. Double amputee above the knee for about 4 months.
She is enjoying the use of the product.
11/09/2017
Reviewer:
mutz d. from panacea, fl (caregiver)
User Details:
She is 72 years of age, 108 lbs and 5'2" tall. She had a stroke 14 years ago and loss the complete use of her right side.
The wheelchair cushion is working out great.
08/04/2017
Strengths:
It holds up well during use.
Reviewer:
debbie h. from argyle, mn
User Details:
Not provided
I modified the cushion by removing a bit of the cushion...
03/31/2017
Weaknesses:
Why does there have to be a no slide feature on this cushion? Some that use a transfer board find that to be in the way of the board.
Reviewer:
adrian c. from mission, tx
User Details:
Using the cushion on a power wheelchair.
12/03/2016
Strengths:
Very well made product
Reviewer:
adrian c. from mission, tx
User Details:
Not provided