Victory 9 4-Wheel
This dependable and sturdy mid-sized scooter lets you travel with confidence.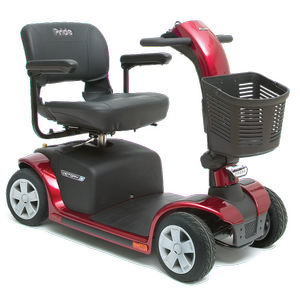 More Information on the Victory 9 4-Wheel
BACK TO TOP
Reviews
Viewing 1 - 12 of 54
This product will be used every day.
04/14/2022
Strengths:
It's charging system.
Weaknesses:
Small wheels and low clearance.
Reviewer:
roy b. from ford, wa, wa
User Details:
Not provided
Great scooter but I prefer the larger wheels.
06/05/2021
Strengths:
Does well in the yard
Reviewer:
wendi h. from schaumburg, il
User Details:
Physical disabled
Taking me places with safety and comfort!
05/27/2021
Reviewer:
gail t. from wappingers falls, ny
User Details:
I love it. Very nice, but a little too big for my trunk! It's a lot bigger than I was expecting.
I will continue being a customer of SpinLife!!
09/10/2020
Strengths:
Very easy to use and maneuver in tight spaces!!
Reviewer:
richard b. from gibsonton, fl
User Details:
I'm very happy that I dealt with SpinLife and that I bought the Pride Victory 9 4 Wheel Mobility Scooter. Also my service tech was very knowledgeable
Heavy duty, sturdy and comfortable.
07/05/2020
Reviewer:
nancy m. from yardley, pa
User Details:
I had polio as a child. I am now 68 and my leg strength has diminished. I use this scooter to walk my dog and get around the neighborhood.
Totally pleased with product and accessories.
02/12/2020
Strengths:
Reliable and simple to use.
Reviewer:
mela w. from big timber, mt (caregiver)
User Details:
MY father is.an active 95 year old and the scooter allows him to feel more independent. He can still do things he enjoys safely..
12/08/2019
Weaknesses:
Should have ordered the scooter with suspension!
Reviewer:
frank w. from jacksonville, fl
User Details:
82 years old with bad feet and knees,etc. Having a great time driving my buggy around the neighborhood!
Freedom and ability to go anywhere I want.
10/04/2019
Strengths:
Ease of use. Very comfortable and can go a long distance on a charge.
Reviewer:
diane b. from danville, va
User Details:
I am a 69 yr old female who has both leg and back pain.I can not walk very far without setting down.This ia my 2nd scooter and I love it.
Recommend that buyer arrange an onsight visit to test drive...
04/21/2019
Strengths:
Reliability and price! Spin Life is half the price of local vendors (Knoxville, TN) and it is attractive.
Weaknesses:
external charger is one more piece to keep up with, size is a little larger but makes a huge difference in what I can do. However, I will CONTINUE to be a direct customer -- can't deal with medicare and vendors who do not attempt to simplify the process!
Reviewer:
jewell m. from knocksville, tn
User Details:
Difficulty adjusting to differences in design: can't slide on seat as easily in addition to the seat being a little too contoured for easy transfer.
09/21/2018
Strengths:
Battery life, speed, ease of use, overall design
Weaknesses:
Seat could be more comfortable
Reviewer:
david m. from fulton, ny (caregiver)
User Details:
Fibromyalgia/Lyme disease sufferers who is constantly in pain. Suffering as a result with significant arthritis specifically In her hips.
08/24/2018
Strengths:
Wide foot area.
Weaknesses:
Too wide, front steering too loose, very jerky starts and stops, hate the ergonomic seat, feet dangle. Had to immediately spend $75 to replace the vinyl on the seat because I couldn't scoot on it to transfer. Right now it's parked and I'm still using my old one.
Reviewer:
jan b. from fairmont, wv
User Details:
70 year old female paraplegic. extremely specific needs in a scooter. Not completely satisfied. Wish Drive Medical had not changed 4G Daytona
Victory 9 4-Wheel: Review
06/05/2018
Reviewer:
kevin m. from fort dodge, ia
User Details:
Not provided