TiLite ZR Series 2
A Mono-Tube designed frame made of titanium with fixed backrest and axle options create an extremely lightweight chair with great responsiveness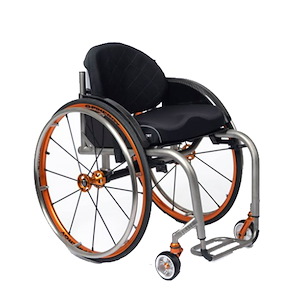 More Information on the TiLite ZR Series 2
BACK TO TOP
Reviews
Viewing 1 - 5 of 5
I am happy with this purchase
11/06/2022
Weaknesses:
Brake location to adjust
Reviewer:
scott f s. from san clemente, ca
User Details:
C-6n Quad upper mobility good. Need lightweight chair so caregiver can easily take apart and store.
As light as advertised, as easy to propel as hoped for, and...
04/29/2018
Strengths:
Rigidity, lightness, simplicity. Craftsmanship of construction.
Weaknesses:
Amount of space required for transportation.
Reviewer:
james r. from virginia beach, va
User Details:
I am a 90 year old who cannot stand without keeling over and passing out because of the blood pooling in my legs. I use the chair to visit museums.
Light, strong and dependable wheelchair
11/04/2016
Strengths:
Light and dependable, easy to disassemble and fits in a car easily.
Weaknesses:
the carbon fiber is not the same as the picture showed and there are other plastic parts on the chair that should be carbon fiber.
Reviewer:
kc h. from albuquerqe, nm
User Details:
I am the user of the ZR and I am a spinal cord injury at the T5 level. I am active and have great upper body strength. I can not use any leg muscles
TiLite ZR Series 2: Review
07/27/2012
Strengths:
Light wieght, easy to load. Easier to roll. Nice looking chair. Everyone at therapy are very envious, wants one of their own. From my limited knowldge, best chair for me. Great customer service.
Weaknesses:
Need some knowledge to tweek the chair to be a perfect fit and balance. But it can and will be adjusted to fit you like a glove. Takes about a mounth to be built and recieve, worth the wait, in my opinion for a quality product like this is.
Reviewer:
ryan c. from overland park, ks
User Details:
Not provided
TiLite ZR Series 2: Review
10/19/2011
Reviewer:
melissa k. from new hartford, ny
User Details:
Low level paraplegic for 20years. Age 40. Mother of three.