Companion Midsize 3-Wheel
The Companion has a 360° rotating seat, 300lb weight capacity and up to 19 mile range.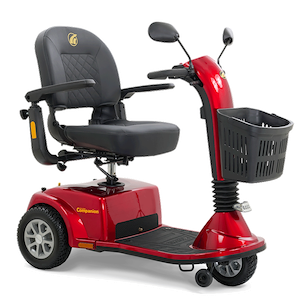 Golden Technologies
(Model No. GC240C)
VIEW ITEM
More Information on the Companion Midsize 3-Wheel
BACK TO TOP
Reviews
Viewing 1 - 12 of 23
03/02/2020
Strengths:
Close turning radius & elevating seat.
Weaknesses:
Wheels could be larger
Reviewer:
roman w. from gibrialter, mi
User Details:
Post polio disability difficulty getting up from a sitting position. The elavating seat makes the this much easier. The battery life is a great help.
I my considering buying one for my summer home
01/19/2020
Weaknesses:
Having difficulty finding an attachment to lift this with a Harmar lift.
Reviewer:
roman w. from gibrialter, mi
User Details:
The scooter works better than expected. the elevating seat allows me to stand with only the aid of my crutches. I can use it indoors and out.
Product did have a defect
12/21/2018
Strengths:
Product is well made even thouigh we did have a defective part. It works great now.
Weaknesses:
The power seat switch would not allow the cart to move faster than a crawl. I called and I was sent not only the switch, but the entire power seat post and motor. The unit weighed so much it was all my wife and I together could do to lift it. After 7 hours we finally got the new post in the cart. This was too hard for our physical condition. You should have sent a service tech.
Reviewer:
jim e. from terre haute, in
User Details:
Polio survivor with no use of legs.
Companion Midsize 3-Wheel: Review
12/02/2018
Strengths:
Shorter length, lights, comfort, speed, manuverability.
Weaknesses:
The lever for swiveling the seat around is difficult to operate and actually would not work one time. The position of the basket is so low on the steering column which makes it difficult to get objects out of it.
Reviewer:
mary m. from los alamidos, ca
User Details:
I am an adult female user. I have difficulty walking and use the scooter whenever I go out.
This scooter has some limitations that I did not expect,...
11/01/2018
Strengths:
ground clearance
Weaknesses:
seat rotation is difficult, tiller will not lock unless unit is partially disassembled and the seat only turns left a short difference not enough to get in the drivers side of a vehicle.
Reviewer:
roy z. from lake st. louis, mo
User Details:
not walking mid 70's
Very handsome and easy to use scooter. Enjoy using it to...
10/12/2017
Strengths:
Handsome product with good lines and pleasing color and extras. Rear basket for hauling stuff, front basket for placing small items and ample floor space for feet and heavy objects I may wish to buy (litter, 20 lbs bird seed, etc).
Weaknesses:
Rear basket is too small. Cannot fit two large bags of groceries in it. Unfortunately does not like the incline of my ramp to get into the house. Difficult to push it up the ramp and lift the rear of the scooter over the threshold.
Reviewer:
lois d. from mechanicsburg, pa
User Details:
67 y/o female with inability to walk farther than 50 ft without pain. Really bored at home and wants to go to zoo, museums, outdoor concerts, etc.
09/22/2017
Strengths:
Duration on battery life, and ease of use.
Weaknesses:
Don't have any at this time.
Reviewer:
william s. from cooperas cove, tx (caregiver)
User Details:
Have a handy cap wife who is using this for mobile, it's made a significant enhancement in her quality of life.
Not as easy to use as last one.
09/09/2017
Strengths:
Lighting in front.
Weaknesses:
Noisy, seat not comfortable, off board charger, had to remove wheels on back so I could load on brawn lift, tiller and seat riser too hard to use. Very disappointed.
Reviewer:
frank c. from brooksville, fl (caregiver)
Companion Midsize 3-Wheel: Review
06/30/2017
Reviewer:
mitchel n. from bethel island, ca
User Details:
Not provided
Mostly satisfied but a few dissapointments
03/25/2017
Strengths:
The elevating seat is the only reason I purchased it. I really like the way the tiller adjusts. Great light package. Good quality build. Like the switch for the elevating seat.
Weaknesses:
The seat back is a little hard, and the angle can't be adjusted. It is the slowest scooter I've ever had. I use the scooter at work to reach files, but when the seat is raised, the scooter slows to a crawl. Very inconvenient for work.
Reviewer:
duane k. from waterloo, ia
User Details:
Born with underdeveloped legs and only one arm.
03/25/2017
Strengths:
Easy to assemble, but assistance may be needed for some for putting seat on. Just awkward and surprisingly heavy. The battery life is strong and lasting. Easy to operate and good in small spaces.
Weaknesses:
A selling feature for me with this scooter was the listed ground clearance (3.5 inch) because I like to get outside in the yard and stuff. While the scooter has 3.5 inch ground clearance the anti-tipping has maybe .5 inches of clearance. This has caused issues with a couple door thresholds I have and I've had to replace a couple ramps to compensate for the issue. Another thing before you buy this scooter or any other scooter for spinlife is sign up for their email notifications, I purchased this scooter at full price and within a month after purchasing,I've received emails like 10% off and just this week got an email to save $250 off full size scooters. Really disappointed I received these potential discounts after already paying full price.
Reviewer:
micah h. from blacksburg, va
User Details:
34 male with a form of muscular dystrophy with limited ability to walk.
Does great helping me get around
02/07/2017
Strengths:
Charging battery, speed, looks good
Weaknesses:
Within 1st week I had scooter it made an annoying high pitch noise. Called Spinlife & they had repairman out here in a couple days at my convenience & schedule. He fixed it & was quick about it. Nice repairman
Reviewer:
pam e. from elsberry, mo
User Details:
Im 58 above knee amputee I only have 40% blood flow in my other leg I've been a Diabetic Type 1 for 48 years I need the scooter to rest my leg