Value-Flex
The Value-Flex offers independent head and foot positioning with an optional innerspring mattress in the firmness of your choice.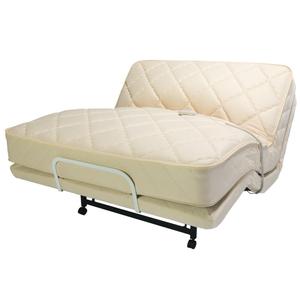 More Information on the Value-Flex
BACK TO TOP
Reviews
Viewing 1 - 12 of 23
03/03/2022
Weaknesses:
rails may not be worth the bother
Reviewer:
karen c. from chicago, il
User Details:
4' 11" arthritis, the bed feels fine, but the side rails don't feel secure. They seem to wobble not giving a secure tight fit to frame feel.
03/27/2021
Reviewer:
george p. from scottsdale, az
User Details:
Not provided
10/24/2020
Reviewer:
john p. from hedgesville, wv
User Details:
Not provided
Love bed. Improves quality of my life.
04/18/2020
Strengths:
Function, ease of use, availability, costs
Weaknesses:
None noticed. Totally happy with Value Flex Adjustable Bed
Reviewer:
martha h. from fort worth, tx
User Details:
Age 79, coronary heart disease, congestive heart failure
02/14/2017
Strengths:
It's good for adjusting yourself.
Weaknesses:
I ordered a soft mattress and it is not soft at all and the SideRail does not move at all.
Reviewer:
chemia w. from van nuys, ca
User Details:
I am a 36 year old disabled woman with back problems and cannot sit up on my own, so this type of bed is perfect for me.
Love the head and leg adjustments for reading and watching...
07/12/2016
Strengths:
Good Product for the money.
Reviewer:
gary d. from brooklyn park, mn (caregiver)
User Details:
I am 65 Female Caregiver, I needed a good nights rest and the Adjustable Bed has done that for me. I would never go back to a regular bed.
not disappointed Sales rep was knowledgeable and helpful
11/30/2015
Weaknesses:
does not raise and lower
Reviewer:
joe w. from fredricksburgs, va (caregiver)
User Details:
39 yr old female w MS
Mattress is terrible and it slides to the side when raised
10/15/2015
Strengths:
The lifts of the bed are fine and so it far work fine.
Weaknesses:
Mattress sinks way down on sides, and slides off the box spring about 6 inches, so it has to be pulled to even up after every use.
Reviewer:
dona r. from folsom, ca
User Details:
I am a 79-year-old woman in good health. I like to read or watch TV in bed, so I wanted a bed with the head and leg lifts. The bed itself is great
09/24/2015
Reviewer:
francesca d. from croton on hudson, ny (caregiver)
User Details:
He has spinal stenosis, Baker's cyst and an accident which caused a concussion.
We didn't realize the value until now.
06/04/2015
Strengths:
Being able to adjust the bed at any angle as we want.
Reviewer:
james h. from san diego, ca
User Details:
My wife and I are the users of the adjustable beds.
Affordable, but not as easily customized as the description...
04/26/2014
Strengths:
Quality of materials, affordability
Weaknesses:
The product's description lists the overall bed height as adjustable from 18" to 30" from the floor - leading one to surmise that this can *vary* for particular tasks, which it cannot...This is disappointing. Also, the mattress required considerable augmentation to avoid pressure issues and improve comfort.
Reviewer:
nancy d. from pleasantville, pa (caregiver)
User Details:
Mid-fifties, Cerebral Palsy/Osteoarthritis/Circulation Problems
11/13/2013
Strengths:
That the bed is able to elevate w/ease of remote
Weaknesses:
The side rails are stiff and not easy to operate by user.
Reviewer:
maura m. from san francisco, ca (caregiver)
User Details:
77 year old female w/a parkinson type neurologic disease