Excel 2000
Sturdy and Durable w/Many Options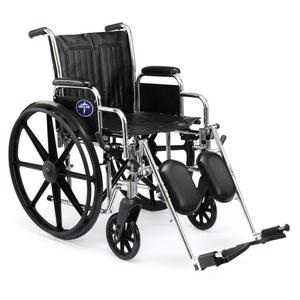 More Information on the Excel 2000
BACK TO TOP
Reviews
Viewing 1 - 12 of 19
Excellent website for ordering and excellent 5 star product!
07/21/2023
Strengths:
Well crafted and excellent dimensional fit for the person and for the house. The first Excel 2000 remained in serviceable condition for 17 years.
Weaknesses:
The weaknesses of the Excel are in the crossing members that form an "X" just below the seat. They will crack at the midpoint of connection. The wall thickness of the crossing pipes is too thin. The large wheel treads wear too quickly, especially the originally equipped wheels. Replacement wheels have a better wear factor. Small front wheels are great for wear. Never replaced. Finally, the brake handles stick out too far. Many knocks on door jambs.
Reviewer:
michael h. from little rock, ar (caregiver)
User Details:
Physical disability. Age 75.
Excellent product. Well engineered and easy to use.
01/20/2023
Strengths:
Sturdy and easy to use.
Weaknesses:
I have not been able to figure out how to install the anti-tipping devices.
Reviewer:
elliot g. from o fallon, mo (caregiver)
User Details:
My wife has Bulbar Onset ALS. She is losing use of her legs.
product is what is show excellent easy to operate
12/08/2022
Weaknesses:
none found so far
Reviewer:
donald e. from florence, ky
User Details:
female, 75 , strokr victim
you can count on it to hold up
09/07/2020
Weaknesses:
vinyl breakage
Reviewer:
wesley b. from greensboro, nc
User Details:
I'm 65 and have MS. I'm still managing on my own and do all my own chores. It wouldn't be possible without this chair. I replace it each year.
Great lightweight chair and personal service by Spinlife...
08/19/2017
Strengths:
Lightweight, great frame, holds body in proper position, easy to maneuver
Weaknesses:
The braking mechanism is a bit iffy but livable.
Reviewer:
frances r. from manchester, ct
User Details:
I am 75 years old and need a chair due to a bad back and complications from Lyme Disease that I had 35 years ago.
Easy to use, functions as it should.
12/14/2016
Strengths:
Easy to use brake levers, good construction
Weaknesses:
None noticed so far.
Reviewer:
barry b. from mineral, va (caregiver)
User Details:
65 y.o. female who broke her femur and then had a pulmonary embolism. Chair has been used around the home and rehab.
Great when you need help to live in comfort and be safe.
12/01/2016
Reviewer:
carolyn c. from salem, va (caregiver)
User Details:
I brought the chair for my daughter. She lost half her leg. She will soon be fitted for a new leg but will still use the chair.
Returned the chair because my husband did not find it...
03/13/2016
Strengths:
It is well made and sturdy, however my husband was not comfortable in it. He preferred his original Excel 2000.
Weaknesses:
Although the measurements were the same as his original Excel 2000, the seat did not sit as comfortable.
Reviewer:
jo a. from portsmouth, oh (caregiver)
User Details:
Due to a stroke, my husband lost the use of his right side almost 15 years ago. He will be 84 in July.
Excellent, quality product and fast service.
10/11/2015
Strengths:
Good product quality.
Reviewer:
dora f. from palmerton, pa (caregiver)
User Details:
85 year old stroke victim.
04/13/2015
Strengths:
I have not gone for a ride in it with the dog so I hope he will adjust to the larger w/chair size. The size was really why I needed it. I gained weight while waiting for my ramp to be built. I think once I can get out again things will be better.
Weaknesses:
It is a larger chair so it is more difficult for me to get it into the car. I may have to eventually get a mobility-improved car. I think overall the wheelchair meets my needs.
Reviewer:
kimberly d. from columbus, oh
User Details:
Unable to walk without wheelchair/live in townhome with 3 floors so I need something on each floor. It would be too much for me to carry wheelchair up
Very good wheelchair with only three things I don't like.
03/22/2015
Weaknesses:
1. My old wheelchair brakes pushed forward to stop and pulled back to move. This one is the opposite - forward to move and pull back to stop. Took some time to get used to that. 2. The pocket behind the back is too tight - makes it awfully small to put anything into it. Can't carry much. 3. My old chair also had a seat belt which I really liked and came to depend on, as I don't use the foot pedals much in my house. It would be nice if my new chair had a seat belt too, but it doesn't. I tend to slide out of the seat when I don't have the foot supports on.
Reviewer:
deborah o. from walnut creek, ca
User Details:
I am 66 years old and have cerebral palsy affecting me only from the waist down. I had surgery to lengthen my Achilles tendons
01/22/2015
Weaknesses:
I am 235lbs and seat has sagged some, I bought a chair that had a 300lb weight limit thinking it would be better than one with 250 limit. It's not better.
Reviewer:
barbara j. from alamo, tx
User Details:
Can't stand long; can't walk. I am a 69 year old female.
Popular Related Products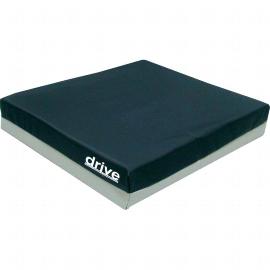 Drive Medical Gel "E" 3