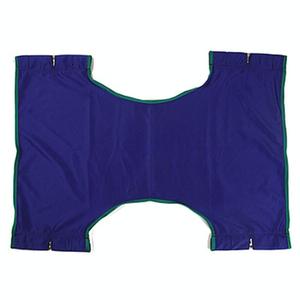 More Information on the Basic Sling
BACK TO TOP
Reviews
Viewing 1 - 5 of 5
05/22/2020
Strengths:
Easy to use and very well made
Reviewer:
kenneth m. from dalton, nh (caregiver)
User Details:
It is very easy to use we love it
I feel safe when transfering from bed to chair.
07/16/2016
Strengths:
Made to last and to hold heavy weight.
Reviewer:
ruth m. from norwalk, ca
User Details:
This sling is made well and easy for my caregiver to use. I sit in my wheelchair all day. The material is comfortable.
Recommended the site to my wife's neurologist for other MS...
10/04/2013
Strengths:
Availablility, service, and the way it surrounds my wife.
Weaknesses:
I haven't found one!
Reviewer:
glenn w. from new kensington, pa (caregiver)
User Details:
Great product, after searching for seven yrs. for replacement slings and getting poor products from others I am very pleased with the slings.
This is a basic lift. I'd recommend an upgrade.
07/09/2012
Strengths:
Strong and well made.
Reviewer:
mabel z. from cos cob, ct
User Details:
86 yr. old man with spinal stenosis who can't stand
01/25/2010
Strengths:
Larger size that cradles the body better, and thinner (more skin-friendly), but stronger material
Reviewer:
roland h. from madison, wi (caregiver)
User Details:
77, MS, quadriplegia