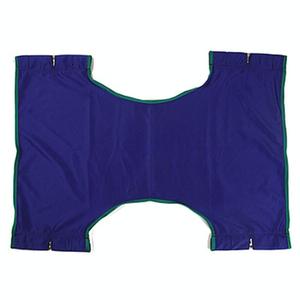 More Information on the Basic Sling
BACK TO TOP
Reviews
Viewing 1 - 11 of 11
05/22/2020
Strengths:
Easy to use and very well made
Reviewer:
kenneth m. from dalton, nh (caregiver)
User Details:
It is very easy to use we love it
06/27/2018
Weaknesses:
I feel like the slings are fraying from the bar faster than they used to, it is disappointing.
Reviewer:
denise b. from connersville, in
User Details:
A C5/6 quadriplegic for 41 years.
I feel safe when transfering from bed to chair.
07/16/2016
Strengths:
Made to last and to hold heavy weight.
Reviewer:
ruth m. from norwalk, ca
User Details:
This sling is made well and easy for my caregiver to use. I sit in my wheelchair all day. The material is comfortable.
06/10/2016
Reviewer:
carlos e. from new york, ny
User Details:
Not provided
Same size as original Invacare sling
07/22/2015
Strengths:
Matches size and features of our original Invacare sling
Weaknesses:
The material has two sides, one side is shiny-shows stains. Borders or edges are thick-user's thighs sit on this edge all day.
Reviewer:
cynthia w. from fullerton, ca (caregiver)
User Details:
Uses electric wheelchair; male, 6 foot, 220 lbs
Recommended the site to my wife's neurologist for other MS...
10/04/2013
Strengths:
Availablility, service, and the way it surrounds my wife.
Weaknesses:
I haven't found one!
Reviewer:
glenn w. from new kensington, pa (caregiver)
User Details:
Great product, after searching for seven yrs. for replacement slings and getting poor products from others I am very pleased with the slings.
This is a basic lift. I'd recommend an upgrade.
07/09/2012
Strengths:
Strong and well made.
Reviewer:
mabel z. from cos cob, ct
User Details:
86 yr. old man with spinal stenosis who can't stand
04/27/2012
Reviewer:
gordon c. from edgewater, md
User Details:
actual user is my father
02/09/2012
Strengths:
The extra width of this sling compared to her old one makes it more comfortable for her and easier to attach and unattach the chains.
Weaknesses:
When not in use, we have had a problem with the metal pieces falling out, wish they were more secure. It is not a problem once the chains are in.
Reviewer:
martha d. from dadeville, al (caregiver)
User Details:
97 year old, legs are not strong, cannot stand on her own.
01/25/2010
Strengths:
Larger size that cradles the body better, and thinner (more skin-friendly), but stronger material
Reviewer:
roland h. from madison, wi (caregiver)
User Details:
77, MS, quadriplegia
clearer instructions on sling installation
11/05/2009
Reviewer:
ettore b. from palm beach, fl (caregiver)
User Details:
all going great. delivery of sling. support chains slow but received.