Trapeze Floor Stand (For use with 7740P Offset Trapeze Bar)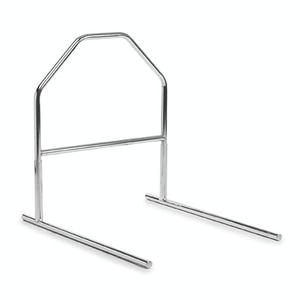 More Information on the Trapeze Floor Stand (For use with 7740P Offset Trapeze Bar)
BACK TO TOP
Reviews
Viewing 1 - 5 of 5
08/27/2021
Strengths:
Can use the trapeze the same way as in a hospital bed. Strong and sturdy
Weaknesses:
It is used the same as in a hospital bed
Reviewer:
edward c. from woodland, ca
User Details:
I went from a hospital bed to a regular bed but wanted to have the tapese for the ease of moving around in the larger bed and I am very happy with it.
great ! fixed old one a had that was bent
10/28/2019
Strengths:
feels good get back to me in a few years
Reviewer:
frank w. from stuart, fl
User Details:
use it to get in and out bed also to move around in bed .paralyzed and in a wheelchair for last 34 years
I would order another one
10/09/2014
Strengths:
Compact and versatile
Reviewer:
thomas g. from bella vista, ar
User Details:
Not provided
Works just I like I thought it would.
05/28/2012
Strengths:
Light weight, easy assembly.
Weaknesses:
Floor base legs should be a little longer to provide more stability.
Reviewer:
gregg p. from salisbury, nc
User Details:
age 50, T-6 paraplegic,college graduate, single
Trapeze Floor Stand (For use with 7740P Offset Trapeze...
11/16/2011
Strengths:
Works without complicated attachments to the bed. Very secure and works.
Weaknesses:
None, but I was very disappointed in the delivery issue.
Reviewer:
sue c. from canton, ny
User Details:
Me- 61 - recovering from a bad car accident - I couldn't move AT ALL for some time. This has helped me get some sleep.