Go-Go Elite Traveller Plus 3-Wheel
Standard 18AH batteries for a longer distance per charge for longer trips!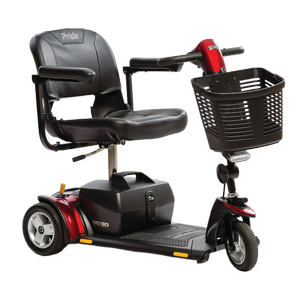 More Information on the Go-Go Elite Traveller Plus 3-Wheel
BACK TO TOP
Discontinued
This product is either discontinued by the manufacturer, or no longer available at SpinLife.com.
To find a comparable product at SpinLife.com, please
click here
or call our ProductExperts at 1-800-850-0335.
Need a Manual?
Reviews
Viewing 1 - 12 of 375
08/05/2023
Strengths:
The features and time between charges make it a perfect mobility aid.
Weaknesses:
I honestly have no weaknesses for this product which I have used for years.
Reviewer:
joseph n. from west point, ca
User Details:
I have MS and it increases my ability to travel further distances such as shopping, touring, home chores and hobby doing woodwork.
04/01/2022
Reviewer:
david w. from bowie, md
User Details:
76 yr old ost polio paraplegic
This is a life saving product! Now I am able to go back to...
09/01/2021
Strengths:
I love that I am able to break down my scooter, put it in my car trunk and when I get to my destination put it back together. This scooter has more features than my previous one. Front wheel lock, light and charging port. I also purchased a rear view mirror, cup holder and a bag to help carry various items. All together this is a wonderful product and I highly recommend it to everyone,
Weaknesses:
I don't see any weaknesses in this scooter.
Reviewer:
elvenia b. from wilmington, de
User Details:
I am a 71 year old woman with mobility issues.
I have had one of these scooters. It fits in out SUV when...
08/25/2021
Strengths:
Light and dependable!
Reviewer:
ellwyn o. from ossian, in
User Details:
Not provided
05/26/2021
Reviewer:
karen f. from nampa, id (caregiver)
User Details:
My husband who lost his right leg due to age and orange
Comfortable, sturdy, nice travel scooter any place that...
04/25/2021
Strengths:
Durability, ease of finding a Pride dealer for repair, balance of weight vs range and other features, comfort.
Weaknesses:
Range and ground clearance less than I would like. I wish Pride offered more lithium ion batteries. Manual was just a printout, in multiple languages; bulky and not very durable. Parts missing from initial shipment AND from second shipment. (SpinLife was great about getting it addressed.)
Reviewer:
paula m. from malvern, pa
User Details:
74 year old with severe arthritis.
03/15/2021
Weaknesses:
can not say as of now
Reviewer:
rajindar s. from sa gabriel, ca
User Details:
personal use
03/06/2021
Strengths:
The size,the styling, the power, and the milage range
Weaknesses:
Do not know yet
Reviewer:
philip c. from new orleans, la
User Details:
I am very proud to own such a smart looking very efficient mobility scooter. It is very satisfying to know I have another option of getting around.
It's a reliable and comfortable way for me to get around.
10/02/2020
Strengths:
Good battery, very good maneuverability.
Weaknesses:
limited foot room
Reviewer:
leomard b. from potomac, md
User Details:
72 y.o. male who has MS
07/29/2020
Strengths:
It's weight is a real plus. My partner and I can lift it and put it in the back of the car. When she isn't with me, I take the scooter apart and load it myself.
Weaknesses:
The worst thing about taking the scooter apart is the awkwardness of the platform and steering column. I've had to ask a passerby for help because that piece is just to hard to handle.
Reviewer:
patricia c. from oakland, ca
User Details:
78-year old woman who has trouble walking long distances.
Excellent set of features for the price
07/08/2020
Strengths:
High quality scooter with stable construction & comfortable seating/ride.
Weaknesses:
Need a lithium ion battery offering for this product
Reviewer:
dave z. from mesquite, nv
User Details:
End user cannot walk but can stand with assistance. This scooter is very stable.
Makes getting around a breeze
05/13/2020
Strengths:
Easy to assemble and disassemble. Heaviest piece in about 29 pounds.
Weaknesses:
Should come with single cane holder, other wise no issues.
Reviewer:
carmella s. from manassas, va
User Details:
70+ with severe breathing issues and cannot walk far.