Pronto M41
A top speed of 5 MPH and 17 mile battery range gets you going faster and charging less often.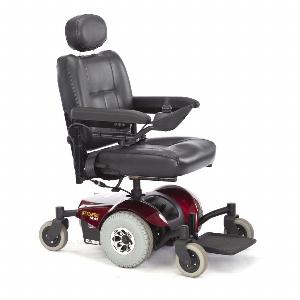 More Information on the Pronto M41
BACK TO TOP
Reviews
Viewing 1 - 9 of 9
The Pronto M41 has greatly enhanced my life by affording me...
11/14/2015
Strengths:
The Pronto M41 works well in fairly confined spaces and affords me mobility and socializing situations inside and outside the home.
Weaknesses:
As yet I haven't found a downside to the Pronto M41; it has met all my personal expectations.
Reviewer:
deedra c. from sandusky, oh
User Details:
I am a 67-year-old female with fairly good coordination and strength who is able to walk, albeit slowly and painfully, and who wanted a way to move
steering too sensitive going in circle
11/13/2013
Strengths:
short turning radius
Weaknesses:
I need a carrier in front for mail, etc.
Reviewer:
freeman g. from santa barbara, ca
User Details:
leg disability. Have been using rollaror and walker
enables me to do my shopping
10/02/2011
Strengths:
turning radius works well in my mobile home.
Weaknesses:
have not found any yet
Reviewer:
alice p. from magnolia, tx
User Details:
80 yr old female unable to walk much because of serious back problems
05/01/2008
Weaknesses:
It is too easy for it to go too fast in the home. The turtle does not slow it down, and it is too easy to run into things.I love it but have to be sooo careful to not run into door ways and furniture.there should be a way to slow it down besides with the hand control.
Reviewer:
louise b. from bolling green, ky
User Details:
Not provided
03/20/2008
Strengths:
Ease of use and maneuvarabilty. Perfect for small areas with tight spaces.
Weaknesses:
Needs a light for seeing in low light areas. Needs a device to help lift the footrest. Needs rubber or something to protect walls and woodwork from the axles on the wheels.
Reviewer:
james p. from sugar grove, oh
User Details:
67 years old with end stage COPD.
My father couldn't be happier with his chair
01/16/2008
Strengths:
One word Quality
Reviewer:
palmer f. from eureka, ca (caregiver)
User Details:
My father is 90 and wanted a chair not really meeting the medicare guide lines he was forced to purchase one on his own. The local dealer said the go
12/11/2007
Weaknesses:
Difficult to back up in order to exit a rear door entry van- Guide wheels too big to turn in narrow spaces
Reviewer:
john m. from long meadow, ma
User Details:
age/76-disability/partial paraplegic-prostate CA
Wheelchair is very responsive and quite nimble, but...
11/17/2007
Strengths:
Responsiveness to joystick input, quick turns on limited space due to short turning radius, motor feels powerful and does not require frequent charging of the battery.
Weaknesses:
Difficulty steering straight when reversing directions. Footrest too short, half of foot sticks out toes unprotected, c an get hurt if bumped against wall or any obstruction.
Reviewer:
rogelio p. from carol stream, il
User Details:
Female, 63 years old, stroke left entire right side weak, very limited unassisted mobility, her right arm has movement but due to weakness is practica
11/17/2007
Reviewer:
rogelio p. from carol stream, il
User Details:
Female, 63 years old, stroke left entire right side weak, very limited unassisted mobility, her right arm has movement but due to weakness is practica