Heavy Duty PR-502 Independent Position 700 lb Capacity
Triple motors for independent positioning and the only 700-pound weight-capacity option.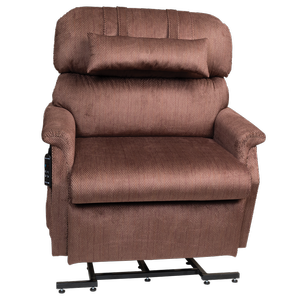 Golden Technologies
(Model No. PR502)
VIEW ITEM
More Information on the Heavy Duty PR-502 Independent Position 700 lb Capacity
BACK TO TOP
Reviews
Viewing 1 - 9 of 9
A little difficult to use
06/06/2021
Strengths:
Very well built, white-glove delivery was wonderful, width is great
Weaknesses:
A little too deep for the heights described, a little too high for the heights described.
Reviewer:
kelly f. from harvest, al (caregiver)
User Details:
The chair is a little tall and deep, my wife is 5'6" and she has a little trouble getting into it.
It is comfortable and easy to use
10/28/2020
Strengths:
It is wide and strong
Weaknesses:
The seat cushion slides
Reviewer:
michael a. from mt. holly sps, pa
User Details:
Male 72 years old
Beautiful and very well made, but sometimes it pinches the...
11/14/2019
Strengths:
Very sturdy and I don't have to worry about tipping when I raise the footrest not fully in the chair. Adjusts quietly and easily. Nice that the cushion is separate from the chair because it makes cleaning and vacuuming easier.
Weaknesses:
for me specifically, it's a bit too high to get into easily. It was not the most comfortable the first few day but I think I have it now. Its firmer than I anticipated - I may try a sheepskin to sit on and something similar for under my calves and heels.
Reviewer:
angela w. from bakersfield, ca
User Details:
68yr OLD FEMALE 450 LBS 5FT 7IN TALL USE CANE OR WALKER..lymphedema both legs-thighs so lge I need this chair for the seat width-but hard to get into
11/22/2018
Strengths:
I love the feel of the wide seat. The bottom is very padded. With two separate motors, you can adjust the seat to many positions.
Weaknesses:
Cannot go to zero gravity. The seat is to high to get in.
Reviewer:
joseph a. from roanoke, va
User Details:
Not provided
It is a very helpful chair.
10/03/2015
Strengths:
The sturdiness, construction, comfort, and style.
Weaknesses:
It is just a little too large. It's hard to get into and seated all the way back in the chair to be able to sit and sleep comfortably.
Reviewer:
kenneth f. from theif river falls, mn
User Details:
I am a 66 year old male weighing 430 lbs. I have lower back pain and knee and hip problems.
12/06/2014
Weaknesses:
Seat cushion keeps moving backwards in to chair, have to constantly pull cushion to the front to keep it even with foot rest
Reviewer:
lisa g. from plymouth, wi
User Details:
63, 580 lbs, obese, has a trach, sleeps in recliner
this chair is good i wish it went up higher. seems to push...
06/21/2013
Strengths:
Heavy duty construction and comfort
Weaknesses:
Chair pushes too far forward
Reviewer:
robert t. from treasure island, fl
User Details:
44 male dwelling lower extremity and lymphedemia
10/11/2012
Strengths:
plenty wide enough to not feel cramped
Weaknesses:
leg rest does not come up high enough. seat should tilt down in the back more
Reviewer:
james w. from manassas, va
User Details:
60 yo male 6ft 500+lbs very limited mobility due to ostoarthritis.
Heavy Duty PR-502 Independent Position 700 lb Capacity:...
07/05/2009
Strengths:
ability to handle extra weight.
Weaknesses:
too high off floor. tendency to tip forward if weight is not toward back of seat. foot rest does not rise as high as desired.
Reviewer:
timothy f. from san jose, ca
User Details:
age 65. legs suffering from lymphedema. legs are heavier than normal.