Maxima 3-Wheel
Highest weight capacity of any scooter manufactured by Pride Mobility.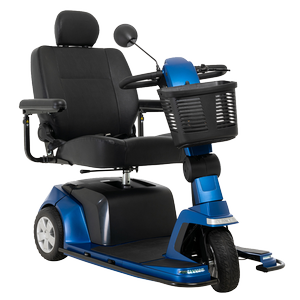 More Information on the Maxima 3-Wheel
BACK TO TOP
Reviews
Viewing 1 - 6 of 6
05/16/2022
Strengths:
The seat is wide and comfortable and swivels to make it easy to get seated. Easily maneuvered into close areas.
Weaknesses:
The horn should have a high and low setting. It's nearly imperceptible in the warehouse where it's being used.
Reviewer:
kevin m. from cabot, ar (caregiver)
User Details:
Not provided
Handles my 500 lb weight with ease
03/06/2021
Strengths:
Style, power, maneuverability
Weaknesses:
Battery charger doesn't work.
Reviewer:
ron c. from mt pleasant, tx
User Details:
Age 67. Overweight arthritis back issues.
Ceems to be good but Celebrity x was easier to us and not...
11/03/2014
Strengths:
High weight limit. Nice cloth seat. The battery cover rubbed during shipping and the vinyl around the tiller was coming off. 1 call to the spinlife salesman and a few days later I received new parts.
Weaknesses:
Mirror and horn are a joke. I would be embarrassed to even offer a mirror if that is all I could give the people, and the horn is not hearable unless you are in a quiet area and then you have to listen close to hear it. Headlight should be mounted below basket so the basket doesn't block the light. The controls should have a protective surrounding like the Celebrity x did, so if you lean forward you are not pushing the accelerator. Does not turn very sharp like the Celebrity x did. The lights, signal, 4-way etc. are to close to the steering to be able to see what switches turn on what.
Reviewer:
wayne l. from nelson, wi
User Details:
62 years old, 480#, hips and back hurt when walking
Buy one you won't be sorry.
08/28/2013
Strengths:
It's high quality and strength. Comfortable seat. Lots of room for BIG man.
Weaknesses:
Need as standard equip a cane holder and a cup holder.
Reviewer:
bruce b. from huntington beach, ca
User Details:
This scooter is much higher in quality than I expected. It is a very good scooter for a very heavy person.
Quality of workmanship is poor compared to the Pride Legend...
07/11/2007
Strengths:
Heavy duty with good power and reasonably long use time prior to need for recharging.
Weaknesses:
Seat is not adjustable for highth; distance between tiller and seat is too close for a large person to fit comfortably;carpeting was not secured to scooter, I had to glue it down. Has an off-board recharger which is inconvenient. The Legend had an on board charger.
Reviewer:
lew h. from rock hill, sc (caregiver)
User Details:
My wife uses the vehicle when she has to go to a Doctor, shopping or out to a social event.
Turning radius is limited.
05/30/2007
Strengths:
Solid feeling ride and comfortable for an extended time.
Reviewer:
p. m. from laguna hills, ca
User Details:
I'm 62. I have had mutipule strokes and am severely obeese with cardiac problems.