Maxima 3-Wheel
Highest weight capacity of any scooter manufactured by Pride Mobility.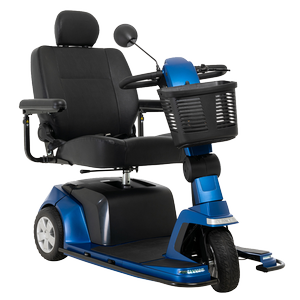 More Information on the Maxima 3-Wheel
BACK TO TOP
Reviews
Viewing 1 - 12 of 21
08/28/2023
Weaknesses:
not receiving everything with our order.
Reviewer:
joseph s. from albany twp, me
User Details:
Wife uses it because of RA and walking is hard at our Shows we go to with our Livestock.
MAXIMA 3 is a Cadillac amongst scooters!
06/20/2022
Strengths:
Weight capacity, quiet, comfortable seat. Good speed.
Weaknesses:
No weaknesses related to this product. Only with getting it into my truck.
Reviewer:
gary c. from irwin, pa
User Details:
63 year old Male. Super Obese. Knee joint issues.
05/16/2022
Strengths:
The seat is wide and comfortable and swivels to make it easy to get seated. Easily maneuvered into close areas.
Weaknesses:
The horn should have a high and low setting. It's nearly imperceptible in the warehouse where it's being used.
Reviewer:
kevin m. from cabot, ar (caregiver)
User Details:
Not provided
Handles my 500 lb weight with ease
03/06/2021
Strengths:
Style, power, maneuverability
Weaknesses:
Battery charger doesn't work.
Reviewer:
ron c. from mt pleasant, tx
User Details:
Age 67. Overweight arthritis back issues.
A comfortable scooter that is easy to handle.
01/19/2021
Strengths:
Comfortable, easy to handle, easy to charge, and good for big and tall individuals.
Weaknesses:
The seat should go back a little further for tall people. It needs a place for a cane.
Reviewer:
faith b. from las cruces, nm
User Details:
Fifty eight year-old with debilitating arthritis (AS and DISH).
It will improve your life
08/25/2018
Strengths:
Power, turning radius
Weaknesses:
Get rid of the mirror, I took it off 1st thing, it's useless. And include a faster charger
Reviewer:
louie g. from concord, nc
User Details:
Not provided
The ideal solution for a heavy person with limited mobility.
08/01/2018
Strengths:
My wife uses this for clinic visits. We needed the higher weight rating and the extra-wide seat, for her it is a perfect fit and is easy to get in and out of. It has plenty of power to get up our driveway, which may be slightly steeper than what it is rated. The more she practices, we are impressed with it's maneuverability.
Weaknesses:
The only real weakness is the solid rubber wheels. Easier to maintain, but as others have noted, you feel the cracks in the sidewalks. Pneumatic tires perhaps would make the ride a bit smoother.
Reviewer:
gregory t. from tsaile, az (caregiver)
User Details:
User is 400 pounds with limited mobility. Uses a walker or wheelchair most of the time, but can walk unaided short distances.
very eay to use and works very well
12/09/2017
Strengths:
Turning radius is small enough for the average size home. Recharge seems to be very quick and easy. Very comfortable LARGE seat.
Weaknesses:
Have not found ant weaknesses yet.
Reviewer:
michael a. from broken arrow, ok
User Details:
He is an old fat guy with bad knees. Making it very easy for him to get around in his home. I love it!!!
Rubber tires are unsatisfactory for use on sidewalks.
03/09/2016
Weaknesses:
It is uncomfortable. User feels every small bump on sidewalks. Would suitable only in an internal setting with even floors.
Reviewer:
george t. from philadelphia, pa
User Details:
76 year old 6'1" male unable to walk without a walker for many years. I use it to get to med appointments and shopping in a large city
Great and dependable product .
02/28/2016
Strengths:
Ease of use and durability.
Reviewer:
johnny ray p. from san antonio, tx
User Details:
I'm a 64 year old man. I've been unable to walk since 1991 due to Post Polio Syndrome.
I loved the Maxima I bought in 2007 so I bought the new...
05/28/2015
Strengths:
The Maxima is durable and dependable transportation.
Weaknesses:
The turning radius may be a setback for some people. It doesn't stop me from riding the light rail train. Follow the instructions that came with the charger and charge those batteries when you get home.
Reviewer:
larry s. from denver, co
User Details:
62 year old with Post-Polio Syndrome
Ceems to be good but Celebrity x was easier to us and not...
11/03/2014
Strengths:
High weight limit. Nice cloth seat. The battery cover rubbed during shipping and the vinyl around the tiller was coming off. 1 call to the spinlife salesman and a few days later I received new parts.
Weaknesses:
Mirror and horn are a joke. I would be embarrassed to even offer a mirror if that is all I could give the people, and the horn is not hearable unless you are in a quiet area and then you have to listen close to hear it. Headlight should be mounted below basket so the basket doesn't block the light. The controls should have a protective surrounding like the Celebrity x did, so if you lean forward you are not pushing the accelerator. Does not turn very sharp like the Celebrity x did. The lights, signal, 4-way etc. are to close to the steering to be able to see what switches turn on what.
Reviewer:
wayne l. from nelson, wi
User Details:
62 years old, 480#, hips and back hurt when walking