Zippie 2
Elimination of the upper seat rails allows for lower seat heights and easily interfaces with seating systems.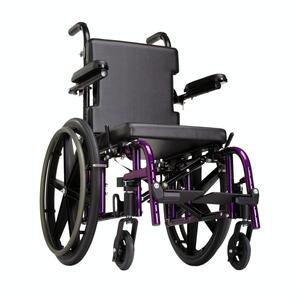 More Information on the Zippie 2
BACK TO TOP
Reviews
Viewing 1 - 1 of 1
This is a great chair but we wish that we had shopped...
04/07/2006
Strengths:
The fact that the chair folds is the main reason that we chose it.
Weaknesses:
It is very time consuming to have to take the whole seating system apart to get it to fold. There should also be some type of lock on it so when it is folded it can't come open whithout releasing the lock because it doesn't stay closed when I am trying to lift it. It is also a bit heavier than I expected but it works good for what we need it for. We had to use a horseshoe shaped pillow to give Madyson some more support because she is very thin and has low muscle tone so she is not supported as well as we would have liked in this chair. We also had the cushion wedged to keep her from sliding forward in the chair but it was not wedged quite enough because she still slides and we have to reposition her quite a bit. This is the perfect sized chair for her because she is very petite. I know I sound like I am complaining a lot but on the whole we are really quite pleased with the product.
Reviewer:
tracy g. from westbrook, me (caregiver)
User Details:
Madyson is 5 years old and has mitochondrial myopathy. She has very low muscle tone, ataxia, nystagmus and very slow speech.
Popular Related Products