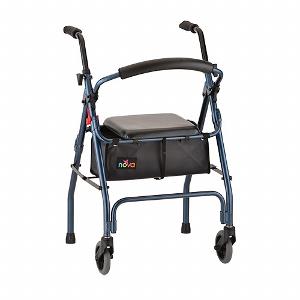 More Information on the Cruiser II
BACK TO TOP
Reviews
Viewing 1 - 7 of 7
Compared to a regular walker this one is great and much...
01/01/2017
Strengths:
The small size fits through smaller spaces and it turns in a small area. It is easy to get around in a small house. Light weight is also very good for elderly users. She loves the bag area to carry things and even was putting a coffee cup in the bag.
Weaknesses:
The adjustable knobs on the handles stick out some so it takes a little more space in narrow doorways. Her home is a modular and the doorways in some areas are only around 22 inches so size is very important. Before we found this walker she had to turn a walker sideways to get through doorways.
Reviewer:
charlotte t. from new lexington, oh (caregiver)
User Details:
my 96 year old mother uses it and she needs it to keep from falling in the house. We had trouble finding a walker that would fit through her doorways
11/21/2012
Strengths:
Well constructed
Weaknesses:
Handles make it difficult at times to lift feet from the ground
Reviewer:
richard b. from lampasas, tx (caregiver)
User Details:
Not provided
Looked a long time to find all the features this particular...
07/28/2012
Strengths:
At 95, my grandmother was not capable of a walker with 4 wheels and hand breaks. We needed one with a seat so she could rest when walking. Lots of searching and we finally found simple as we needed.
Weaknesses:
Doesn't fold and unfold real easily. Need to include the sled like attachment for the nonwheel legs to glide easier over carpet.
Reviewer:
ronda c. from ft wright, ky (caregiver)
User Details:
95 year old grandmother, weak due to age, replaced hips and knees & brittle bones. Needs support to walk.
Product satisfies our needs.
06/09/2012
Reviewer:
robert f. from shamokin, pa (caregiver)
User Details:
For my 97 year old Mother to use.
11/27/2009
Strengths:
lightweight and moves easily
Weaknesses:
wish the basket folded up when we fold up the walker.
Reviewer:
wendy e. from columbia, mo (caregiver)
User Details:
This walker is for my 92 yr old father. It works great.....it is lightweight and he is able to manuver it easily.
only for those who can get out of chair ..not to use for...
02/06/2008
Strengths:
nice moving front wheels
Weaknesses:
sharp metal on the basket
Reviewer:
kathleen k. from perrysburg, oh (caregiver)
User Details:
female 83 years old, frail..difficult to get out of chairs 'weak trunk' muscles.
02/28/2007
Strengths:
Lightweight and easy for my mother to handle. I especially like the two wheels because she has to pick it up a little to move it and she needs this in order to help her get some type of exercise.
Reviewer:
cathy h. from moore, ok (caregiver)
User Details:
My 84 year old mother who suffers from severe osteoporosis and congestive heart failure.