Top End Eliminator OSR Racer
Racing wheelchair with exceptional stability and 3 seat styles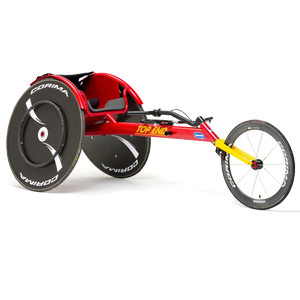 More Information on the Top End Eliminator OSR Racer
BACK TO TOP
Reviews
Viewing 1 - 1 of 1
10/13/2006
Strengths:
Wow! What a fantastic machine! It has given me much joy and increased self esteem. I would purchase it again in a heart beat. Jeff Russell helped me through the purchase and my initial set up process. He was terrific. Very patient and helpful. I am very proud to own this chair and I will be racing it at the 28th annual Humboldt Redwoods Half Marathon this Sunday. Now that you know that I am thoroughly pleased with my Top End Eliminator, I do have some suggestions. When I received the chair, the wheels would not fit on the frame. I had to bend the frame with a large construction bar to get the wheels to fit and spin smoothly. Then, two miles into my first ride, I discovered that most of the spokes on all three wheels were extremely lose. (Probably why the wheels would not fit to start with) They had to be tightened and the wheels then needed to be trued. I feel that for the price of the chair, the wheels should have fit and the spokes tight with the wheels true. I also feel that the paint job as well as the 'Top End' lettering where not of a quality that matched the price. I hope my 'constructive' criticism helps, as I am truly happy with my chair and intend to buy upgrades from you soon. Thank you.
Reviewer:
mike m. from lakeport, ca
User Details:
I have a reconstructed hip due to a bicycle accident while training for a triathlon.