Golden Eagle
Stylish heavy-duty recreational scooter with a 5" ground clearance , locking box and up to 32 mi drive range.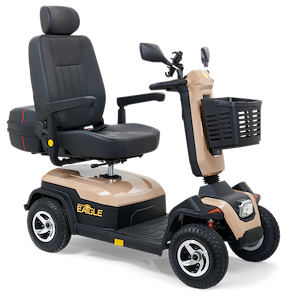 Golden Technologies
(Model No. GR595)
VIEW ITEM
More Information on the Golden Eagle
BACK TO TOP
Reviews
Viewing 1 - 5 of 5
07/09/2023
Reviewer:
charles a s. from huntington, wv
User Details:
76 year old.  Neuropathy and back pain.
The Golden Technologies Eagle Flys High With Features And...
05/05/2023
Strengths:
Feels solid even for taller, heavier users. Loaded with extra features. Excellent drive ability even on rough terrain. Very comfortable seat. Easy to operate. Love the larger capacity batteries.
Weaknesses:
Instruction manual could be more detailed...especially the assembly instructions. Golden Tecnologies Tech Support still not very familiar with this new model. Wish there were more color options.
Reviewer:
carol d. from fletcher, nc
User Details:
62 year old, 5'10" woman with severe arthritis, fibromyalgia, and an in-operable, deteriorating hip joint.
Great for outdoor use and larger riders, not meant for...
04/22/2023
Strengths:
From the man himself: "Performance wise, absolutely, great on inclines and mixed terrain , seat much more comfortable that smaller units, USB port very convenient"
Weaknesses:
Not break-down-able, can't go in an airport and not good in tighter spaces indoors
Reviewer:
matt g. from kirkland, wa (caregiver)
User Details:
Obese, lazy, low mobility 75-year old male with balance problems and a stubborn unwillingness to exercise.
Too big, cumbersome, not enough ground clearance, and needs...
04/19/2023
Strengths:
Probably an OK machine for an obese person.  My mistake for not looking more closely.
Weaknesses:
1. Lack of ground clearance, does not have an overall 5" clearance.  2. NEEDS independent front suspension so the front doesn't come off the ground on an uneven surface.  3. Flimsy battery cover, the velcro fasteners don't cut it, don't hold in place, it rattles.
Reviewer:
john b. from reno, nv (caregiver)
User Details:
wife, age 78, Parkinson's
easy assembly, comfortable ride,
04/12/2023
Reviewer:
jay e. from piffard, ny
User Details:
69, can't walk long distance