VivaLift! Ultra
NEW! Ultra comfortable chair with heating pads, air cell massage, cup holder, and cell phone charging pad.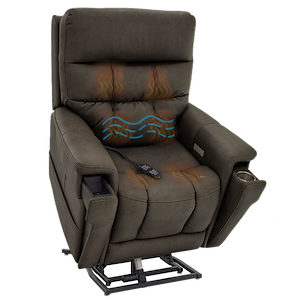 More Information on the VivaLift! Ultra
BACK TO TOP
Reviews
Viewing 1 - 7 of 7
Great chair! Quality workmanship
07/12/2023
Strengths:
Adjustability of head and lumbar
Weaknesses:
The only thing I don't like are the controls for heat massage on the inside of the left arm. It is so easy to turn on by accident 
Reviewer:
dorthey s. from greer, sc
User Details:
Had knee replacement and having another. Our previous lift chair was uncomfortable 
Having the ability to set positions allowed me to get...
06/16/2023
Strengths:
Comfortable, seat/back are wide, good arm width, easy controls, lifts as high as I want, like the drink holder and cell phone holder. Lumbar and Head adjustments are a Must Have. I no longer need a pillow. I have issues with arthritis, bulging lower discs, sciatica, and a bad hip. I could no longer sleep in my adjustable bed due to pain. I switched to my recliner for about a year, but could not get more than 2 hours sleep at a time for the last 3 months. After figuring out the right position for feet, back, adjustable headrest, and lumbar support, I can sleep through the night. If you ever had to live with waking up every hour or two due to pain for over 2 years, you would fully understand the value of this lift recliner. I only looked into the recliner to lift me up since I can't get up well from my couch and recliner, but I wish I had looked into it years ago. There is nothing you could say to make me give up this recliner now that I can sleep through the night. I am back to my old self again. I no longer get overly irritable, "insufferable", or impatient now that I am sleeping. If you are having trouble sleeping for similar reasons as me, this lift recliner will probably be the answer you have been looking for.
Weaknesses:
There is a little "rubbing" on the foot rest when it is extending. It feels like a vibration where two metal pieces are a little too tight in the connection. It is not an issue and it doesn't bother me. I suspect once the parts are used for a while it will work itself out.
Reviewer:
john h. from frankford, de
It is comfortable, but very poorly thought out engineering...
06/03/2023
Strengths:
quality of construction is very good.
Weaknesses:
the massager and warming controls should not be on the tethered remote. This seems OK until you actually use the chair - try taking a nap and not accidentally bumping the buttons with your leg
Reviewer:
edward h. from inman, sc
User Details:
male; age 61; back issues
the massage is dissapointing, would have rather had the...
05/10/2023
Strengths:
the fact that it is a well built machine and the flexible features of each part is a real plus as the ability to change position is a real asset when your buttocks starts to hurt from being in the same position too long. I really would love this chair much more with a good vibrating massage rather than the type it is.
Weaknesses:
to me by far the Massage unit compared to the older fashion rolling vibration.
Reviewer:
john r. from newton center, ma
User Details:
im 78 and get around pretty well. I wanted this lift chair as i got caught in my previous one when the power went out.
04/04/2023
Strengths:
It comes with so many functions, i.e. heat and massage, charger built into the arm and so many positions. My husband has no trouble with the remore. The footrest is extended, which is a feature he especially desired.
Weaknesses:
It's very heavy to move if necessary. But I haven't found any real drawbacks to the chair.
Reviewer:
francine m. from oklahoma city, ok (caregiver)
User Details:
He has diabetes, neuropathy, and is partially paralyzed on one sige.
I like it a lot, but . . .
03/29/2023
Strengths:
Sturdy, well built, many position adjustments, Handsome. I enjoy the cup holder. It helped me eliminate a pressure sore that had hurt for months.
Weaknesses:
The placement of the heat and massage switch is terrible. You cannot see it; it accidentally trips if you brush it, then it is difficult to turn it off. The massage is good but only works the lower back, which is disappointing. The phone charger ceased working on the second day; I will contact the service department about that. One of the actuators is somewhat noisy.
Reviewer:
newton c. from natchitoches, la
User Details:
78 years old, hip issues, Neuropathy, Uses wheelchair
Wonderful chair. I am thinking of buying another one soon
03/29/2023
Reviewer:
jean o. from portland, or (caregiver)
User Details:
Not provided
Popular Related Products