Rogue 2
Innovative design provides the highest level of rigidity and responsiveness at an ultralight weight.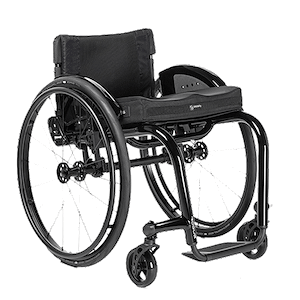 More Information on the Rogue 2
BACK TO TOP
Reviews
Viewing 1 - 3 of 3
09/08/2023
Strengths:
It's very lightweight, I can lift it with one hand as long as im holding onto something else and not lose my balance. This chair has amazing responsiveness making turning and maneuvering very easy. It's not difficult to figure out how to make adjustments and there are a lot of adjustments you can make. I love almost everything about it.
Weaknesses:
The spacers around each caster are so tight to the caster that they don't allow it to spin freely so it slows you down a bit.
Reviewer:
jeffrey m. from titusville, fl
User Details:
36 year old male, diagnosed with MS 12 years ago. Terrible balance and drop-foot that doesn't allow my foot off the ground at all.
Light weight chair, easy to take apart.
06/29/2023
Strengths:
No nuts and bolts on the frame. The frame is strong.
Weaknesses:
The ki wheelchair has one problem, the clothes protector trim pop's off easy. If you can integrate the trim into the metal, it would be better.
Reviewer:
greg w. from rancho cucamonga, ca
User Details:
I have CP from birth. I'm sixty years old.
03/13/2023
Strengths:
The chair is highly customizable, with clear technical manuals available on their website. Build quality is great, aside from loose screws.
Weaknesses:
Most of the bolts/nuts were not torqued correctly. The bolts holding the clamp for the brakes were so loose that leaning forward while the brakes were engaged shifted their position. The release handle freely spun and could be moved side to side by around an inch. If you're purchasing this chair, make sure to get a torque driver to make sure everything is tightened up. On top of all of this, the spokes are not tightened enough, causing the wheels to fall out of trueness quickly. Once everything was tightened down, it's an amazing chair.
Reviewer:
kendall s. from warren, mi
User Details:
mid 20's, muscular dystrophy, semi-ambulatory