Jazzy Carbon
NEW! Carbon fiber frame for a lightweight and compact travel chair- IN STOCK!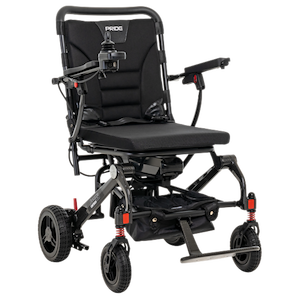 More Information on the Jazzy Carbon
BACK TO TOP
Reviews
Viewing 1 - 12 of 39
Travel limits reduced handicap parking not needed
09/10/2023
Weaknesses:
off road use wasn't expected CALL CARL AND TELL HIM I SENT YOU!!
Reviewer:
brian l. from underwood, ia
User Details:
86 male handicapped stroke limited right side right foot brace walking cane have spin life scooter carbon is second for me
This thing is a beast. A squeaky beast
08/28/2023
Strengths:
The battery power, longevity of the battery, speed, maneuverability, and ease of folding are unmatched. Also very lightweight, easy to figure out even for people using it for the first time. My friends have had no trouble figuring out how to fold and load, or unfold the chair. Changed my life. Also surprisingly good at off-roading on Sandy trails, only slides on soft dirt and sands when going on an incline. 
Weaknesses:
The only thing I wish I could change is how squeaky it is. Going over a bump, adjusting, turning, scooting back, it's going to squeak. It's worth it for how lightweight it is, however. Also, the beep when turning the chair on is very loud, disturbs everyone in my office. I've figured out muffling the joystick with a pillow helps the beep not be so intrusive. Would love to be able to disable the beep. 
Reviewer:
rachel w. from hoover, al
User Details:
33 year old woman with advanced psoriatic arthritis, can only walk a few yards unaided
08/26/2023
Strengths:
Lite weight. Easy to control.
Weaknesses:
Seat too hard.
Reviewer:
paul h. from redmond, wa
User Details:
Age 75. Heart Attack and Lung Disease. Problems breathing while walking.
Feel more free to visit away from home
08/24/2023
Strengths:
Portable , speedy
Weaknesses:
Crossing doorways. A little rough ride
Reviewer:
jerry p. from madison, tn
User Details:
78 yrs old, lower back chronic pain spinal stenosis. Only able to walk short distance one room to another. Perfect for me to fold and carry out.
Best for my home-condo use all day long. Also for my car...
08/13/2023
Strengths:
Flexibility and turning inside my home is the best thing. Don't have to use my arms as in a normal wheelchair. Glad I could get an attachment for a coffee holder. I am 81 and also got a doorway "bridge" to get outside onto my porch so I like that! The footrest pulling up is very helpful for me. Charging is normal but battery life lasts almost all day never a problem!
Weaknesses:
My girls are just about able to fold it up and into the trunk but it's a job for them. Might be easier if it would be in two parts somehow.. I also must be careful between the doorways; the wheels get twisted into the doorframe sometimes. Maybe a wheel/door cushion is possible.
Reviewer:
dominic i. from cocoa beach, fl
User Details:
David is my son-in-law. This is Dominic Iannelli who asked him to get the chair for me while I was in rehab!I am unable to put and pressure on my feet
08/11/2023
Strengths:
Light easy to fold
Weaknesses:
The front wheel steel holders should have protective plastic or rubber coating on outside. When they bump things they get scratched and sharp. Can cut your ankles or damage things like clothing or walls
Reviewer:
david p. from algonquin, il (caregiver)
08/09/2023
Strengths:
Light weight  Comfortable 
Weaknesses:
Small rear wheels
Reviewer:
kevin h. from new york, ny
User Details:
Semi mobile 
EXCELLENT service...up and beyond!
08/08/2023
Strengths:
Light weight and durability.
Weaknesses:
Moy much. Maybe if the arms moved back so that you can side sit.
Reviewer:
mark b. from middletown, ct (caregiver)
User Details:
Not provided
This makes taking my husband away easy for me
08/05/2023
Strengths:
Easy to load in the car for me that's huge
Weaknesses:
Goes to fast on the lowest speed for inside
Reviewer:
sharon s. from lebanon, pa (caregiver)
User Details:
My husband is 71 and completely handicapped for 9 years this is so convenient love it
Easy to use enabling me to live a fuller life.
07/30/2023
Strengths:
I love the fact that it folds up and fits in the back of my SUV.  Also I can travel on airlines or cruise lines — chair/batteries are approved.
Weaknesses:
I wish that it could handle a little heavier terrain.  I'm not so sure how it will navigate some of the cobblestone streets in other parts of the world.
Reviewer:
linda m. from roseville, ca
User Details:
I have a rare genetic disease that affects my mobility — some days worse than others.
07/23/2023
Strengths:
light weight, easy to put in the car. great for shopping and going to the movies. level of independence not having someone pushing you around in a wheelchair. We like that it incorporates a fold out footrest. Battery easy to charge in and out of the chair. Charge lasts a long time........
Weaknesses:
Haven't found any so far.
Reviewer:
kevin c. from westerly, ri (caregiver)
User Details:
Purchased for my wife. She has been using a wheelchair for a couple of years and wanted something easier to use walking the dog and getting the mail.
Terribly underpowered. The motors growl and vibrate when...
07/22/2023
Strengths:
Lightweight and easy to fold and unfold.
Weaknesses:
Better throttle control and motors.
Reviewer:
robert i. from bergenfield, nj
User Details:
She is 80 years old, weighs 160lbs, only needs the jazzy carbon for sightseeing and other activities that require walking long distances.