Feather Scooter
An ultra-lightweight power scooter that weighs just 37 LBS!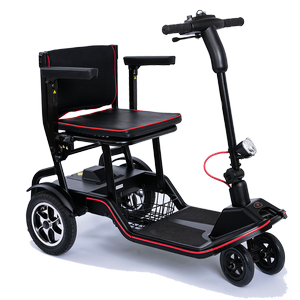 More Information on the Feather Scooter
BACK TO TOP
Reviews
Viewing 1 - 6 of 6
Excellently engineered for weight, cost, and usability...
10/01/2022
Strengths:
Lightweight, simple to use, comfortable, reliable, good ground clearance. Charging port IS on tiller.
Weaknesses:
None that wouldn't increase cost or weight to correct.
Reviewer:
brooks m. from huntsville, al
User Details:
75 YO, male, not able to walk (nerve damage), otherwise healthy. Retired Aerospace Engineer. This is daily dog walker.
07/23/2022
Strengths:
Weight and fold ability
Weaknesses:
Turn radius, power up curbs
Reviewer:
richard p. from long beach, ny (caregiver)
User Details:
A mom who now enjoys independence with her son
07/21/2022
Strengths:
Small and folds up
Weaknesses:
The loudness of the backup alarm
Reviewer:
virginia m. from seminole, tx
User Details:
90-yr-old woman, unable to walk - has given her mobility!
Great value for the money!
06/21/2022
Strengths:
Portability, ease of set-up, light weight
Weaknesses:
would like a bigger basket
Reviewer:
kristine f. from lincoln, ca
User Details:
74, have scoliosis
06/18/2022
Strengths:
Lightweight but sturdy enough for my 6'3..218lbs frame. Easy to load/unload. No assembly....rides smoothly. Easy handling.
Weaknesses:
Would be nice to have holder for water bottle ,etc
Reviewer:
hollis o. from deridder, la
User Details:
I am 6'3 male with 5 back surgeries and hip issues..My scooter is so useful/beneficial in helping me to be mobile and able to be more active.
06/12/2022
Weaknesses:
none yet that I can see.
Reviewer:
jay e. from washingtonville, ny
User Details:
I have Multiple Sclerosis and can't walk around so I use the scooter for longer distance.