Feather Power Chair
An ultra-lightweight power wheelchair that weighs just 33 LBS!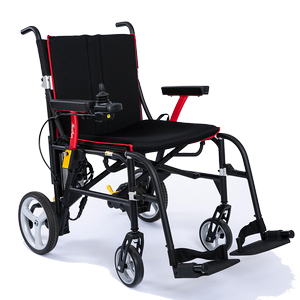 More Information on the Feather Power Chair
BACK TO TOP
Reviews
Viewing 1 - 11 of 11
It took me the length of the Ocean City Fall Fair and back...
10/10/2023
Strengths:
It could use a cup holder
Weaknesses:
No place to place items you pick up or purchase / EG: Ocean City Fall Fair I didn't have anywhere to place my purchases.
Reviewer:
frank c. from southampton, pa
User Details:
My wife no longer has to push me everywhere I now ride and very comfortably.
09/21/2022
Reviewer:
charne c. from tbd, oh
User Details:
Not provided
09/05/2022
Strengths:
It is easy to assembly and instructions are good. Easy to operate
Weaknesses:
To fo Chair not as light weight as we would like. Will take 2 people to get in car
Reviewer:
deborah s. from mesa, az
User Details:
My husband uses to get around due to car accident.
09/03/2022
Strengths:
It's light weight. The user is able to load it into his van by himself.
Weaknesses:
None known after a month's use.
Reviewer:
monte c. from biloxi, ms
User Details:
86 year old male had a bad fall that broke left hip. This person is able to stand but not walk due to pain.
My chair is perfect. I love love love it.
08/30/2022
Strengths:
It's very sturdy
Weaknesses:
I wish it was a little smaller to fit behind the drivers seat.
Reviewer:
renee m. from pilot point, tx
User Details:
Not provided
The chair is perfect for our needs.
08/27/2022
Strengths:
It's lightweight and easy to put in our care and is easy to operate.
Weaknesses:
So far no weaknesses.
Reviewer:
william d. from windsor, mo (caregiver)
User Details:
For my 34 year old son who is only able to walk some inside the home. Gives him freedom when we go out.
Very good product for traveling.
08/01/2022
Strengths:
The ability to put it in the back seat of our pickup. We are campers and when traveling it is very difficult for me to get to the rest area restrooms. With this chair I can get it in and out of the back seat with ease. The last trip I even used the chair at most of the campgrounds to set up the camper.
Weaknesses:
The seat belt should have a way to take it off.
Reviewer:
joseph w. from zephyrhills, fl
User Details:
73 year old male. Post polio syndrome has left me with very limited ability to walk. I have been using mobility devices for the last 10 years.
Absolutely remarkable for user and caregiver
07/07/2022
Strengths:
The light weight enables me (the 74 year old caregiver) to load and unload this chair with a minimum of strain. It is sturdy and easy to operate for my husband.
Weaknesses:
The padded cushions that come with it are difficult to attach and detach. We have substituted a wheelchair cushion from Drive which fits perfectly.
Reviewer:
carolyn b. from beaumont, ca (caregiver)
User Details:
My husband is the user of the Featherweight power chair. He is a semi-ambulatory 89 year old amputee with vision and hearing deficits.
Good product but there are things I would change or add
05/20/2022
Strengths:
Ease of use and assembly.
Weaknesses:
No bags to use for carrying things. Joy stick sometimes erratic. Clicking noises when using joystick. No brushless wheels.
Reviewer:
murray w. from hilton head island, sc
User Details:
Age94 stroke
very helpful for roaming about big collector car shows
04/23/2022
Strengths:
easy to lift and place in car trunk
Reviewer:
james j. from wagoner, ok
User Details:
husband is age 76 with painful arthritis in hips and ankles
I am using the Featherlight to get around the house. We now...
04/09/2022
Strengths:
The small size, portability, maneuverability around fine furniture safely is terrific. One can go through doorways and small places. It works to park at the keys and play my wonderful grand piano while sitting in the chair!
Weaknesses:
It kind of lurches when I need to start a sharp turn. I understand that there are clutches or something that automatically slow the turn start.
Reviewer:
betty f. from santa maria, ca
User Details:
86 year old woman who has been quite limited by serious health problems for years