STAR 8
An easy to fold and transport rollator available in standard and petite sizes great for both indoor and outdoor usage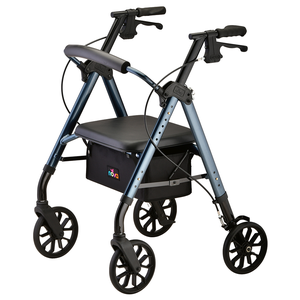 More Information on the STAR 8
BACK TO TOP
Reviews
Viewing 1 - 1 of 1
This rolling walker is "Built to Last". Nothing flimsy...
11/28/2022
Strengths:
I love this walker I use the seat when I get tired For the money I don't believe you would find a better one. It should last after I am gone for another family member to be able to use it if they ever need one. It is made very good and will last a long time I am sure. The brakes come in handy I have had to use them a time or two when I lose my balance and has kept me from falling and gives me the seat to rest on before moving along once again. Thanks Spinlife for having quality items for us that need them. Still use my scooter that I bought from you last year. It was hard to be outside before I got it. Now I am able to get out of the house more thanks to the 2 great products I got from you.
Weaknesses:
I haven't noticed anything that is a weakness in my walker. I have not had any problems with it.
Reviewer:
mary r w. from lavergne, tn
User Details:
I have had triple bypasses, heart attack , lung cancer twice, COPD and a anurism in one of my bypasses. I get tired and lose my balance easy now.