Catalyst 4C
A great lightweight option made to accommodate complex seating systems and a large range of positioning preferences.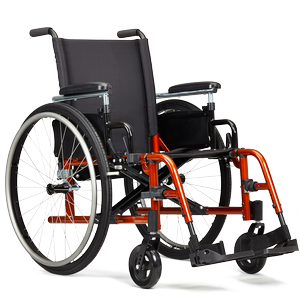 Ki Mobility
(Model No. Catalyst 4C)
VIEW ITEM
More Information on the Catalyst 4C
BACK TO TOP
Reviews
Viewing 1 - 6 of 6
06/04/2023
Strengths:
12" across when collapsed, 27 lbs without cushion and legs rests.
Weaknesses:
Tires need to be chunkier so as not to slip on hills
Reviewer:
lea g. from rio rancho, nm
User Details:
50yo woman. small frame and 125 lbs. T11 para with full anterior support.
The wheelchair is a solid upgrade over my previous chair.
05/13/2023
Strengths:
Lightweight and off of the features that I need.
Reviewer:
thomas f. from west bridgewater, ma
User Details:
73-year-old male. T12/ L1 paraplegic.
01/22/2023
Strengths:
Lightweight easy to push
Reviewer:
aliyya j. from detroit, mi
User Details:
I'm 42 yrs old and I'm pleased with my purchase. The chair has a smooth ride, very comfortable and lightweight for my mom to transfer into the trunk 
10/16/2022
Strengths:
We appreciate the quality of the Spin Life Catalyst 4. It meets our expectations; it's easy to lift and load into our van; the color (green) is nice; and it's fairly easy to adjust the foot rests and armrests, etc. I'm glad we purchased from SpinLife... I like the variety of mobility equipment they carry.
Weaknesses:
I haven't experienced any weaknesses. We might purchase another one a year from now because we should have purchased one that has tires that can easily navigate gravel and soil pathways. Also, I'll ask for the model that has larger wheel rims so that the user can easily move himself along a path.
Reviewer:
tamara m. from decatur, il (caregiver)
User Details:
Not provided
Very helpful; lightweight; nice color; seems to glide along...
09/30/2022
Strengths:
Style; weight is conducive to loading into a car; color is olive green; easy for Caregiver to push; relatively easy for User to use handrails on wheels
Weaknesses:
Armrests should not be used to lift up the chair
Reviewer:
tamara m. from decatur, il (caregiver)
User Details:
Senior in mid-70's; Parkinsons from exposure to Agent Orange while a U.S. Marine in Viet Nam;
right enough, sturdy and stable. using solid tires helps
05/22/2022
Strengths:
collapsible, solid joints
Reviewer:
lea g. from rio rancho, nm (caregiver)
User Details:
t-11 para, 49yo female,