Catalyst 5Vx
Everything that's great about the Catalyst 5 with an upgraded axle plate and adjustable camber.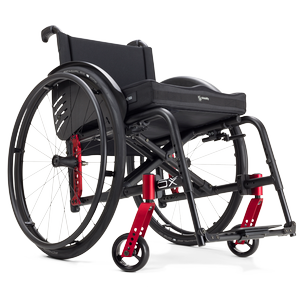 Ki Mobility
(Model No. Catalyst 5Vx)
VIEW ITEM
More Information on the Catalyst 5Vx
BACK TO TOP
Reviews
Viewing 1 - 6 of 6
10/11/2022
Strengths:
Lightweight and very maneuverable
Weaknesses:
Armrests are a little bit flimsy
Reviewer:
joann g. from three lakes, wi
User Details:
Confined to a wheelchair due to a stroke age 61
Great product. Great site and really great service from...
02/22/2022
Strengths:
Light weight, folding and customized to my height.
Weaknesses:
Not major but I did not realize it did not come with a seat cushion of any sort. Not a huge surprise as the cushion is a very important and custom part of the chair for those who are wheelchair bound.
Reviewer:
josh m. from porter ranch, ca
User Details:
I will be using the wheelchair as my ability to walk has deteriorated over the years due to neuro damage from brain surgery when I was 16.
The best wheelchair I have ever had
01/27/2022
Strengths:
comfortable, reliable, ease of use, folds up well, reasonable weight, easy maneuverability
Weaknesses:
Brakes a little hard to open, need a cushion to sit on.
Reviewer:
maria p. from wayne, pa
User Details:
Unable to walk more than short distances using crutches. S/P lumbar fusion and severe osteoarthritis.
08/22/2021
Reviewer:
henry c. from south lyon, mi (caregiver)
User Details:
Not provided
This is the perfect chair.
06/10/2021
Strengths:
Stability, versatility, ease of motion, comfort all day long. This is an excellent product, sturdy but light, it has been a revelation of what 'can be' in the life of a wheelchair user.
Weaknesses:
None. We ordered the perfect chair, in all aspects. And we will get it in all the colors my husbands likes!
Reviewer:
renata w l. from conrad, mt (caregiver)
User Details:
As per my husband's request for privacy I am not free to disclose or discuss any personal or health related information publically.
perfect measurement of my height and weight
05/25/2021
Reviewer:
ben s. from saint paul, mn
User Details:
This is actually my 1st personal service wheelchair that i can maneuver by my self. I had polio and with braces on my leg,