Victory 9 Scooter
Made for stability and security, the Victory 9 scooters are great for many users.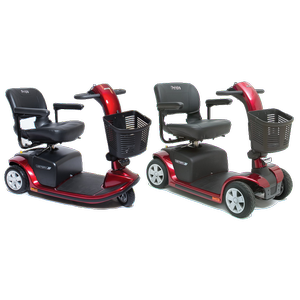 More Information on the Victory 9 Scooter
BACK TO TOP
Reviews
Viewing 1 - 12 of 86
07/22/2023
Reviewer:
robert l. from lake havasu city, az
User Details:
Not provided
03/19/2020
Strengths:
Quality and Durability
Reviewer:
ed h. from arlington, tx
User Details:
I am a 55 year old male with Becker Muscular dystrophy. The product help me move around my home and go out to shop. Great Product
Totally pleased with product and accessories.
02/12/2020
Strengths:
Reliable and simple to use.
Reviewer:
mela w. from big timber, mt (caregiver)
User Details:
MY father is.an active 95 year old and the scooter allows him to feel more independent. He can still do things he enjoys safely..
12/08/2019
Weaknesses:
Should have ordered the scooter with suspension!
Reviewer:
frank w. from jacksonville, fl
User Details:
82 years old with bad feet and knees,etc. Having a great time driving my buggy around the neighborhood!
Have only had the scooter less than two months still...
11/24/2019
Strengths:
The weight and sturdiness makes me feel safer using it than the lighter ones I have used.
Weaknesses:
The seat lever is on the right side which can be difficult for me because I am left handed.
Reviewer:
mary b. from greenville, nc
User Details:
stroke and broken hip on weak leg.
Good scooter with enough clearance for most thresholds.
11/09/2019
Strengths:
Good for active users.
Weaknesses:
The charge indicator on the tiller is angled right at the riders eyes making it very distracting.
Reviewer:
phil d. from phoenix, az
User Details:
I'm a 73 year old male with an ambulatory disability.
Freedom and ability to go anywhere I want.
10/04/2019
Strengths:
Ease of use. Very comfortable and can go a long distance on a charge.
Reviewer:
diane b. from danville, va
User Details:
I am a 69 yr old female who has both leg and back pain.I can not walk very far without setting down.This ia my 2nd scooter and I love it.
Best scooter I've ever owned
09/10/2019
Strengths:
Very stable for a three wheel product , incredible maneuverability
Reviewer:
phillip c. from waynesville, oh
User Details:
Age 60 with the spinal cord condition numbness and weakness throughout.
Victory 9 Scooter: Review
08/23/2019
Reviewer:
natalie l. from shelby township, mi
User Details:
Not provided
Recommend that buyer arrange an onsight visit to test drive...
04/21/2019
Strengths:
Reliability and price! Spin Life is half the price of local vendors (Knoxville, TN) and it is attractive.
Weaknesses:
external charger is one more piece to keep up with, size is a little larger but makes a huge difference in what I can do. However, I will CONTINUE to be a direct customer -- can't deal with medicare and vendors who do not attempt to simplify the process!
Reviewer:
jewell m. from knocksville, tn
User Details:
Difficulty adjusting to differences in design: can't slide on seat as easily in addition to the seat being a little too contoured for easy transfer.
I won't leave home without it.
01/14/2019
Strengths:
Battery life; design; turning radius; ease of use; short learning curve; needs little practice to control moving in and out of tight spaces; loads with ease on standard city buses equipped for wheel chairs.
Weaknesses:
The horn is not loud enough and can be heard only a few feet. The tires are solid which makes this scooter a very, very rough ride. Shock absorbers are needed.
Reviewer:
robert p. from san diego, ca
User Details:
Age 82; Disabilities: Advanced emphysema and diabetes which causes loss of feeling in feet and causes falls.
This is our second identical model. It is a well made,...
11/09/2018
Strengths:
The name Pride on it which means quality and not cheap junk.
Weaknesses:
Brightness of console lights, inconvenience of charger plug for a handicapped person almost impossible if not sitting on the scooter and the huge basket which is hard to manouver in a home. A small flat one is better.
Reviewer:
walter g. from portsmouth, va
User Details:
Severely unable to walk, stand, or move around.
Popular Related Products