4-Wheel Klip with Flip-Up Seat
Lightweight posterior 4-wheeled gait trainer whose flip-up seat is a great convenience for users who may lack the endurance to walk for long periods of time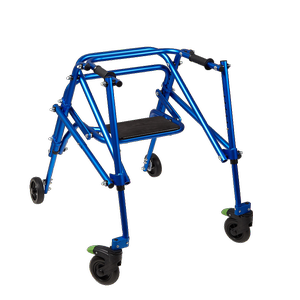 More Information on the 4-Wheel Klip with Flip-Up Seat
BACK TO TOP
Reviews
Viewing 1 - 1 of 1
Screws and bolts came loose and fell out after only two...
02/12/2023
Strengths:
It does not protrude out very far in front of user as the Crocodile walker does and the height of the walker is locked in place with push pins rather than and adjustable slide bar as the Crocodile walker does. Two of Main Reasons I Purchased this walker
Weaknesses:
The screws and bolts are not very trustworthy of staying in place and their protrusion on the outside of the walker inhibit its narrowness to enter small doorways ect. The seat does not fold up completely out of the way of the user therefor when walking the seat rubs against legs/back as they walk and its tension is not tight enough to keep it folded up when walking, it easily folds down when in motion.
Reviewer:
penny s. from dunlap, tn (caregiver)
User Details:
My 21 year old son whom has Angelman Syndrome. Is very active and still in school.