Zero Turn 10
Patented Zero-Turn technology combines 3-wheel maneuverability with 4-wheel stability.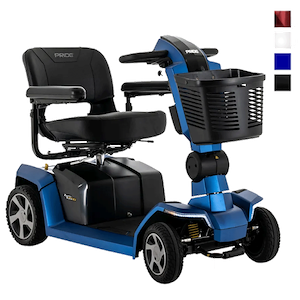 More Information on the Zero Turn 10
BACK TO TOP
Reviews
Viewing 1 - 12 of 19
Does exactly what I needed for.
10/12/2022
Strengths:
Swivel seat makes it easy to transfer from my wheelchair. Goes far on a single charge.
Weaknesses:
As of yet I haven't found anything to complain about.
Reviewer:
robert p. from north tonawanda, ny
User Details:
Hurt in a bad vehicle accident and unable to walk without the use of a walker, my zero turn allows me to get to the drug store, bank, supermarket et
I thought the scooter would be smoother because of the...
10/08/2022
Strengths:
The zero turn aspect is great. Easy to mauver in tight spaces. Plenty of speed and power. The horn button is located where it cannot be accidently pushed; well done. All in all I'm happy with the scooter.
Weaknesses:
I thought the suspension would give a smoother ride than it actually does. Quite stiff and rough on large gravel and uneven surfaces.
Reviewer:
john h. from san antonio, tx
User Details:
I cannot be on my feet for any length of time. I am dependent on scooters inside and outside the home. I bought the Zero turn for all outside work.
I have not had time to use as much as would like to but...
07/08/2022
Strengths:
Ease of getting to know the product.
Weaknesses:
So far I have found no weaknesses.
Reviewer:
julian p. from clyo, ga
User Details:
I am 80 years of age. I have osteoarthritis and have been using a walker for several years. I need the scooter to help me get around.
07/07/2022
Strengths:
The speed is incredible and it handles like a race car.
Weaknesses:
The computer is under the bottom of the scooter so if it does happen to get wet your scooter will not work properly until it completely drives out.
Reviewer:
william k. from shelton, ct
User Details:
50 year old male with MS. Walking abilities no more than 5'.
02/06/2022
Strengths:
Easy turning and great power
Reviewer:
susan s. from folsom, ca
User Details:
I love this scooter, I broke my femur bone and it's still hard to get around, turns on a dime plenty of power and easy to drive. I recommend this scoo
It helped my husband to keep up with everyone on our...
06/19/2021
Strengths:
It has a very long battery life, we only had to charge it once during our weeks vacation.
Weaknesses:
It is very heavy and takes about 10 minutes to take apart and another 10 minutes to put together. We have a Ford Edge and it takes up half of the trunk compartment with the second row (back) seats down, so you have to keep that in mind when you need to transport it.
Reviewer:
marjory d. from avon lake, oh (caregiver)
User Details:
I purchased the Zero Turn 10 4-Wheel for my husband because we were going on our vacation with our daughter, son-in-law and our three grandsons.
06/10/2021
Strengths:
Easy to turn. Stops when you let go of the handles. Battery life is just right. Good looking.
Weaknesses:
The material used on the bottom bumper is too brittle- it should be rubber, like bumper cars. Ours cracked into tiny pieces, when it hit the side of the sidewalk.Needs seat belts.
Reviewer:
janet f. from el cerrito, ca
User Details:
The main user is an 80 year old male and has problems walking. It also makes shopping a lot easier. It is just right for the stores.
05/18/2021
Strengths:
Easy to handle in all situations,
Weaknesses:
Inserting the key is hard to see. Should be more visible.
Reviewer:
tom m. from everette, wa
User Details:
Problem standing Medical condition. MSA, Multiple systems atrophy
05/12/2021
Strengths:
the stability and the handling
Weaknesses:
Charging, it takes forever to complete the charge
Reviewer:
peggy a. from chesterfield, va
User Details:
I am a 62 year old female who has been stricken with a disease that has left me with very limited walkins
01/08/2021
Strengths:
Feels solid on the street
Weaknesses:
Can't find a weakness at this point. Have had it 2 weeks.
Reviewer:
ann w. from st george, ut
User Details:
Age 88, cannot walk without an aid, poor balance
I love this Zero Turn 10 4-wheel Scooter.
12/24/2020
Strengths:
Longest battery life of any scooter I've ever used.
Reviewer:
kerri h. from goose creek, sc
User Details:
I am 60yo. I cannot stand for very long, nor can I walk very far. This scooter is a lifesaver.
This is THE PERFECT scooter!
10/20/2020
Strengths:
The fact that it turns in so little space is superior. It is beautiful, easy to use, has great features, the price on Spin Life is great. I couldn't be more pleased!
Weaknesses:
It does not have a back up beeping feature.
Reviewer:
jean w. from minneapolis, mn
User Details:
Not provided