Zero Turn 10
Patented Zero-Turn technology combines 3-wheel maneuverability with 4-wheel stability.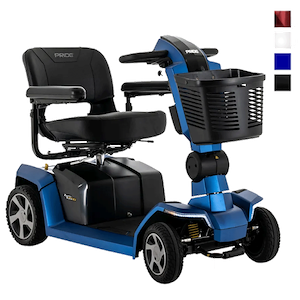 More Information on the Zero Turn 10
BACK TO TOP
Reviews
Viewing 1 - 7 of 7
I thought the scooter would be smoother because of the...
10/08/2022
Strengths:
The zero turn aspect is great. Easy to mauver in tight spaces. Plenty of speed and power. The horn button is located where it cannot be accidently pushed; well done. All in all I'm happy with the scooter.
Weaknesses:
I thought the suspension would give a smoother ride than it actually does. Quite stiff and rough on large gravel and uneven surfaces.
Reviewer:
john h. from san antonio, tx
User Details:
I cannot be on my feet for any length of time. I am dependent on scooters inside and outside the home. I bought the Zero turn for all outside work.
07/07/2022
Strengths:
The speed is incredible and it handles like a race car.
Weaknesses:
The computer is under the bottom of the scooter so if it does happen to get wet your scooter will not work properly until it completely drives out.
Reviewer:
william k. from shelton, ct
User Details:
50 year old male with MS. Walking abilities no more than 5'.
06/10/2021
Strengths:
Easy to turn. Stops when you let go of the handles. Battery life is just right. Good looking.
Weaknesses:
The material used on the bottom bumper is too brittle- it should be rubber, like bumper cars. Ours cracked into tiny pieces, when it hit the side of the sidewalk.Needs seat belts.
Reviewer:
janet f. from el cerrito, ca
User Details:
The main user is an 80 year old male and has problems walking. It also makes shopping a lot easier. It is just right for the stores.
01/08/2021
Strengths:
Feels solid on the street
Weaknesses:
Can't find a weakness at this point. Have had it 2 weeks.
Reviewer:
ann w. from st george, ut
User Details:
Age 88, cannot walk without an aid, poor balance
The scooter could have some improvements
09/24/2020
Strengths:
Beautiful machine
Weaknesses:
The arm rest bolts and some squeaking
Reviewer:
angelo c. from hazleton, pa
User Details:
it needs some minor work
Love it. A real 'bad boy', fast or slow. Plenty of power,...
09/17/2020
Strengths:
Turn radius, speed levels, power for any situation, incline, environment. Looks great. Get lots of compliments.
Weaknesses:
Takes getting use to coming out of tight turns. Ordered high back seat because of my height, seat should adjust back more like the short back seat does.
Reviewer:
robert p. from fort worth, tx
User Details:
Need for balance problems and inability to walk long distances. This scooter fit my needs because I'm tall and need a small turn radius.
Product should come partially charged. While of superb...
08/14/2020
Strengths:
USB Port & Safety lights
Weaknesses:
Somewhat complicated for an elder, the charge lighting should have a clearer indication i.e. using complete words
Reviewer:
melody b. from mahwah, nj (caregiver)
User Details:
Limited Leg and cognitive mobility. Due to recent stroke