Protekt Move
A simple option for standing or around the home transport.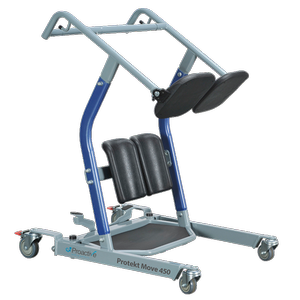 More Information on the Protekt Move
BACK TO TOP
Reviews
Viewing 1 - 4 of 4
Great products, NEVER dissatisfied with any purchase we buy...
06/30/2023
Strengths:
enables my husband to do things that other machines have failed to do. The Protekt Move gives him the ability to have confidence that he needs without the fear of falling to accomplish portability and regain a better quality of life
Weaknesses:
We see no negatives so far
Reviewer:
robert c. from rochester, ny (caregiver)
User Details:
73 yo male with AAA, Stroke, etc
03/29/2023
Strengths:
Easy to maneuver. Comfortable and feel secure 
Reviewer:
sharron v. from leominster, ma
User Details:
Not provided
Very easy to use. 85 year old wife able to operate
03/16/2022
Strengths:
Very stable. We have no concerns this product will tip or fall over while being used
Weaknesses:
Not really a weakness, but more a result of environment where is used at times. Moving on carpet is sometimes difficult. It is built very sturdy and adding an adult to the weight sometimes makes it harder to move on carpet, depending on carpet thickness.
Reviewer:
jim k. from cloverdale, oh (caregiver)
User Details:
85 year old male recovering from fall. Had spinal injury which caused great reduction in strength and mobility
11/05/2021
Strengths:
Makes life so much easier for patient and caregiver
Weaknesses:
Not really a weakness but it does take up a lot of space when not in use
Reviewer:
clair b. from sarasota, fl (caregiver)
User Details:
the patient had a stroke and has difficulty transferring from bed to chair or commode. With this equipment he can pull himself up onto it and easily m
Popular Related Products