Splash Defense™ Transfer Bench
Tired of trying to tuck the shower curtain in so water doesn't get all over the floor? This innovative solution from Drive will eliminate that worry!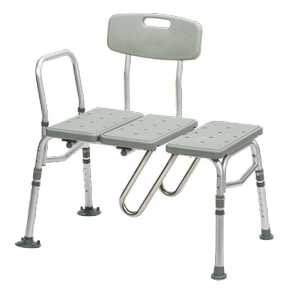 Drive Medical
(Model No. RTL12032KDR)
VIEW ITEM
More Information on the Splash Defense™ Transfer Bench
BACK TO TOP
Reviews
Viewing 1 - 4 of 4
The chair is very helpful
04/16/2021
Strengths:
The area of the chair that let's the shower curtain pass through without water leaking out of the shower.
Weaknesses:
The legs need more adjustment for taller walled showers.
Reviewer:
arlin s. from nederland, tx (caregiver)
User Details:
Not provided
Product meets need with high level of comfort.
04/07/2021
Strengths:
Adjustable legs and curtain bypass are best features.
Weaknesses:
Too wide for standard tub. Must have legs all the way up to allow curtain bypass to rest on side of tub. Must place boards under outside legs to level and add a towel along tub edge to prevent curtain bypass from rubbing side of tub.
Reviewer:
cheryl m. from brooksville, fl (caregiver)
User Details:
Spouse received knee replacement surgery and needs bench for shower in standard tub.
01/17/2021
Strengths:
The depth of the seat gives stability
Weaknesses:
The divider for the split seat isn't big enough for my bathtub. My bathtub has a wide edge and the bench is almost too small. Can't use the transfer portion for the same reason
Reviewer:
donna s. from oak ridge, tn (caregiver)
User Details:
I use this bench to help my disabled husband in the bath. Before we got it I was just giving him a sponge bath. It's been a life saver for me
It makes showering safe for people who have difficulty...
07/29/2020
Strengths:
Pretty well made, height adjustability is sufficient, easy to assemble, reasonably priced, fills a much needed gap with the ability to keep water from running out of the shower like most transfer benches. The U channels were a great idea.
Weaknesses:
No major weaknesses, however the industrial grip suction cups are hard to release make it a major pain for everybody else that has to use the shower. By the time you get one loose the other is glued to the bathtub floor again.
Reviewer:
kenneth f. from cuddebackville, ny (caregiver)
User Details:
87 Yrs old unsteady on her feet