EW 29
A scooter, a trike, and a whole lot of fun!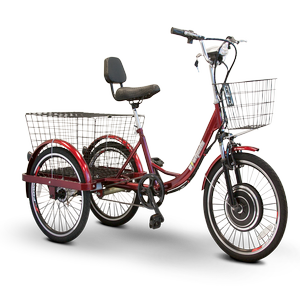 More Information on the EW 29
BACK TO TOP
Reviews
Viewing 1 - 12 of 15
10/28/2022
Reviewer:
elwin b. from santa maria, ca
User Details:
Not provided
its good and fast and fun
03/17/2022
Strengths:
big basket with lid i went to store got 100 dollars of food still had room
Weaknesses:
it should have speed meeter and when you use the reverse the pedal comes back hits your knees
Reviewer:
michael n. from lock haven, pa
User Details:
its good and fast and fun
02/25/2021
Strengths:
Easy to ride.. Quality of workmanship
Weaknesses:
Would be helpful to have a speedometer or someway to measure distance traveled.
Reviewer:
william n. from huntsville, al
User Details:
Not provided
Not easily used by person of my height 6'2". Difficult to...
09/09/2020
Strengths:
Looks good, operates well in power mode. Critical unstable steering, easy to turn too sharply.
Reviewer:
kay b. from bedford, ma
best purchase I have ever made
08/31/2020
Strengths:
allows me to excersise but also helps me get home when I can't petal anymore
Weaknesses:
be careful when turning...dont turn sharp
Reviewer:
stacie c. from gatesville, tx
User Details:
My 55 yr old body with neuropathy makes me very unbalanced. I cant feel my feet on the petals of a bike & I fall off. I ride & then cant ride home.
Great trike. Gives plenty of mobility!
08/23/2020
Reviewer:
charles b. from carencro, la
User Details:
I use it for exercise. I only have one lung and have 4th stage lung cancer in it also so it is very important to get exercise!
08/06/2020
Strengths:
Can get exercise but when tired can easily get home!
Weaknesses:
Battery connector/charger port is very low and hard to get to for older users!
Reviewer:
richard m. from louisville, ky
User Details:
74 year old male with extremely bad knees
06/21/2020
Strengths:
Of course that would be the power option
Weaknesses:
The steering, and pedaling are both awkward.
Reviewer:
tiffany r. from dyer, in
User Details:
45 with severe arthritis.
Which it was easier to ride in grass.
06/17/2020
Strengths:
Impressive looking
Weaknesses:
Seat is set to far forward. Problem with the seat staying locked in place and height.
Reviewer:
loretta d. from hawthorne, fl
User Details:
Age 69, Female and Age 67, Male. Female like to paddle for fun and exercise. Male likes to motor to mailbox and check on livestock.
04/11/2020
Strengths:
Quality of product & great baskets
Weaknesses:
Found it very hard to find the charging outlet on the battery pack and to insert both charging plug and user plug.
Reviewer:
robert s. from seminole, fl
User Details:
81 year old male with balance and lung problems
love my motorized tricycle
03/26/2020
Strengths:
due to balance issues, i dont fall off
Weaknesses:
hard to pedel (3 speed capability would be nice
Reviewer:
caren b. from scarborough, me
User Details:
I have Multiple Sclerosis & want to keep active, but dont always know when to stop. with the motorized bike i dont fall off & if tired, i drive back
I like it. Just need to get used to the power of the...
10/10/2019
Strengths:
Ease of use is great. Just need to ride and get used to the power it has. and get used to turning. It is a little different than a regular bike, as it is a 3 wheeled trike. I love my trike to get around on.
Weaknesses:
I wish it had turn signals. But it does have lights and a horn. I had to get rear view mirrors as I felt uncomfortable not seeing what was coming behind me. I could turn my head but then I couldn't see where I was going. Ha
Reviewer:
kay f. from lake wales, fl
User Details:
Hi, I am 77 years young and I have some arthritis in my knees so my bike is great for me to get around without straining my knees.
Popular Related Products