EW 29
A scooter, a trike, and a whole lot of fun!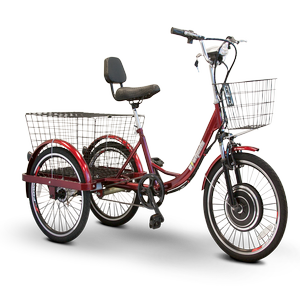 More Information on the EW 29
BACK TO TOP
Reviews
Viewing 1 - 9 of 9
its good and fast and fun
03/17/2022
Strengths:
big basket with lid i went to store got 100 dollars of food still had room
Weaknesses:
it should have speed meeter and when you use the reverse the pedal comes back hits your knees
Reviewer:
michael n. from lock haven, pa
User Details:
its good and fast and fun
best purchase I have ever made
08/31/2020
Strengths:
allows me to excersise but also helps me get home when I can't petal anymore
Weaknesses:
be careful when turning...dont turn sharp
Reviewer:
stacie c. from gatesville, tx
User Details:
My 55 yr old body with neuropathy makes me very unbalanced. I cant feel my feet on the petals of a bike & I fall off. I ride & then cant ride home.
Great trike. Gives plenty of mobility!
08/23/2020
Reviewer:
charles b. from carencro, la
User Details:
I use it for exercise. I only have one lung and have 4th stage lung cancer in it also so it is very important to get exercise!
08/06/2020
Strengths:
Can get exercise but when tired can easily get home!
Weaknesses:
Battery connector/charger port is very low and hard to get to for older users!
Reviewer:
richard m. from louisville, ky
User Details:
74 year old male with extremely bad knees
04/11/2020
Strengths:
Quality of product & great baskets
Weaknesses:
Found it very hard to find the charging outlet on the battery pack and to insert both charging plug and user plug.
Reviewer:
robert s. from seminole, fl
User Details:
81 year old male with balance and lung problems
I like it. Just need to get used to the power of the...
10/10/2019
Strengths:
Ease of use is great. Just need to ride and get used to the power it has. and get used to turning. It is a little different than a regular bike, as it is a 3 wheeled trike. I love my trike to get around on.
Weaknesses:
I wish it had turn signals. But it does have lights and a horn. I had to get rear view mirrors as I felt uncomfortable not seeing what was coming behind me. I could turn my head but then I couldn't see where I was going. Ha
Reviewer:
kay f. from lake wales, fl
User Details:
Hi, I am 77 years young and I have some arthritis in my knees so my bike is great for me to get around without straining my knees.
I like it very much very easy to handle.
07/17/2019
Strengths:
The basket in back
Reviewer:
david b. from groton, ct
User Details:
Not provided
I ordered another for my other son. So we can run around as...
07/11/2019
Strengths:
The fact that you can pedal for strength and drive for faster travel. Awesome product would be great for Wounded Warriors as well. For independence, something everyone needs.
Weaknesses:
Haven't found any yet.
Reviewer:
lori w. from quinter, ks (caregiver)
User Details:
My son Klint, has a brain injury which , He has had to learn everything all over again. It gives him more independence. He can pedal or just drive.
A great way to exercise and then motor home when you run...
03/23/2018
Strengths:
Fun to ride, offers good exercise, and has a good "safety net" option if you tire out (the motor).
Weaknesses:
It's a little hard to pedal at first.
Reviewer:
patricia h. from greenville, sc
User Details:
I am almost 75 years of age and have horrible arthritis, especially neuropathy in my feet and legs. I bought the EW 29 trike to strengthen my legs.
Popular Related Products