Titan AXS
The Titan AXS features the seating and design expertise of the Titan in a mid-wheel with a 20" turning radius!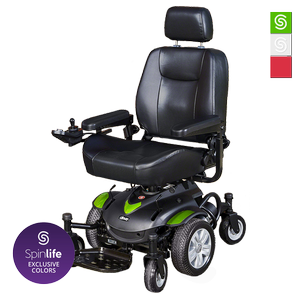 More Information on the Titan AXS
BACK TO TOP
Discontinued
This product is either discontinued by the manufacturer, or no longer available at SpinLife.com.
To find a comparable product at SpinLife.com, please
click here
or call our ProductExperts at 1-800-850-0335.
Need a Manual?
Reviews
Viewing 1 - 12 of 24
Well built, strong machine, turns easily to go thru...
04/03/2022
Strengths:
20" turn makes going thru doors possible. Already had a Cirrus, it is sitting in the garage as it is a total failure indoor
Weaknesses:
Controls on this one definitely jumpy. Learning curve will be longer than normal. Found seat comfortable but need one deeper, back to front. Motors rather noisy.
Reviewer:
leone r. from parnell, ia
User Details:
75 year old female. Severe OA, light stroke impaired balance.
01/02/2022
Strengths:
ease to use, lots of speed
Weaknesses:
spin the tires to ease
Reviewer:
james o r. from ariton, al (caregiver)
User Details:
Woman, 75 years old disable cannot used her legs
10/31/2021
Strengths:
The entire chair. It lives up to the name
Reviewer:
melinda m. from houston, tx
User Details:
I am 63 years young and I bought my chair because of several reasons like bones spurs in my back arthritis in my back and hips disks in my back
I would recommend it because it is working well for us.
07/11/2021
Weaknesses:
Not aware of any at this time
Reviewer:
leroy d. from saint paul, mn (caregiver)
User Details:
Wife 83 years old. Has a mild case of dementia
06/06/2021
Strengths:
It helps me to get around and it has the strengths to help me live.
Reviewer:
charles s. from des plaines, il
User Details:
I am 94 Years old and living in assistant living I can not balance and my legs will not pick me up. I use my arms to pick myself up.
Nice product at a fair price.
04/18/2020
Weaknesses:
Solid drive tires make it very rigid and difficult going over any kind of bumps and speed control is to easy to bump and cause unwanted changes.
Reviewer:
patrick s. from spanish springs, nv
User Details:
I am a retired male who lost my left leg (BKA) 12 years ago and then in December of 2019 I lost my right leg (BKA) due to poor circulation.
09/01/2019
Reviewer:
goldie b. from niles, mi
User Details:
Not provided
Fairly nice, but with a couple negaive issues.
05/02/2019
Strengths:
Size, power, ease of use.
Weaknesses:
Lock nuts keep loosening, Arm rest frame too far forward - hip bumps it when being transferred. OUCH!! Arms have to be up for transfer which exposes the vertical frame.
Reviewer:
james l. from waterloo, wi
User Details:
71 YO female, quadra,
04/22/2019
Reviewer:
valerie e. from salem, ma
User Details:
Not provided
01/27/2019
Weaknesses:
The arm rests and foot rest.
Reviewer:
larry c. from kernersville, nc
User Details:
Not provided
Great looking wheelchair that falls short due to...
01/06/2019
Strengths:
I bought this wheelchair for 2 reasons: it looked great in the pictures and the supposed battery range (19 miles!) was much longer than my previous 2 powerchairs. As a wheelchair user in their mid-20s, appearances in social settings are important to me, which is why I was delighted to see that the chair looked as sleek in person as it did in the pictures. I get compliments on how "cool" the chair looks as I quietly zip down the halls. I work in a hospital and am constantly on the move so it's nice to not constantly be confused as a patient with one of those bulky, standard-issue chairs. The battery life is definitely a big plus too. I've never pushed the chair to the limits to see if it really gets the advertised 19 miles but I believe it. I can use the chair for two days straight (maybe even more) without worrying it will die on me. Never have to worry about finding a charging spot in the middle of the day again.
Weaknesses:
Sleek, modern-looking wheelchair with a great battery life... what's not to love? If you primarily use the chair indoors with no inclines, obstacles, thresholds, bumps, etc. and have no intention on using it out on bumpy sidewalks, then this chair would be ok for you. Unfortunately, that's not the case for most users. As some other reviews may have mentioned, this wheelchair gets stuck on the smallest bumps in your path. This chair may not have independent suspensions on the two front wheels like my old pricier Jazzy 600, but I don't understand how Drive could have made this model available to the public knowing its limitations. If you don't approach a ramp head-on, you might spin sideways. If you don't get a running start, your mid-drive wheels might just get stuck trying to get over a door threshold not even an inch high. I've gotten stuck on short grass trying to get back on the sidewalk. My review is especially critical because of the availability of cheaper options that outperform this chair. My (now broken) Golden Literider has 2 less wheels, much less torque, and $500 cheaper has no problem negotiating difficult terrain. I've even taken it off roading in the woods before. If I could go back, I'd return the Titan AXS and just get the new Literider model. I really wanted to like this chair, but it just annoys me how I have to make a much more conscious effort in navigating around what should be very minor obstacles.
Reviewer:
ronnie m. from cinnaminson, nj
User Details:
24 M with a neuromuscular disease and limited ambulation.
not meant for use in mobile home
10/31/2018
Strengths:
seat is very comfortable
Weaknesses:
joy stick controler
Reviewer:
joseph n. from port jervis, ny
User Details:
Not provided