Ergo Flight TP
With its globally patented S-style ergonomic seat frame, the Ergo Flight is comfortable, while its 3-stage handle brakes offer convenience and safety.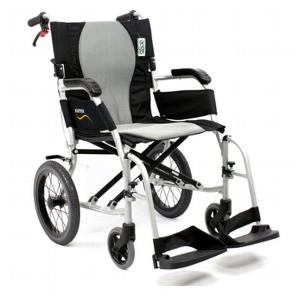 Karman Healthcare
(Model No. S-2512-TP)
VIEW ITEM
More Information on the Ergo Flight TP
BACK TO TOP
Reviews
Viewing 1 - 2 of 2
03/25/2022
Strengths:
Lightweight and easy to fold up and transport
Weaknesses:
The measurements are off. I ordered the 16" (width). The width is actually 15" wide. If I knew this I would have ordered the 18"width.
Reviewer:
nicole b. from clinton, ma (caregiver)
User Details:
28 yr old female, nonambulatory 4' 10" tall. 110# petite frame
Product ok but a bit confining. Weight of device is a...
09/26/2020
Strengths:
Chair overall weight is a positive.
Weaknesses:
In retrospect, I should have ordered the 18" seat. Even though patient is slender 16" is a bit confining. Chair rails are too small in length & uncomfortable without padding. Back support could be higher in length.
Reviewer:
william m. from bronxville, ny (caregiver)
User Details:
Female, parkinson's patient, 83 yrs. 5'6, slender build.
Popular Related Products