Dualer Powerchair
No need to back up - just turn the seat and drive right out of tight spots! FREE power elevating seat included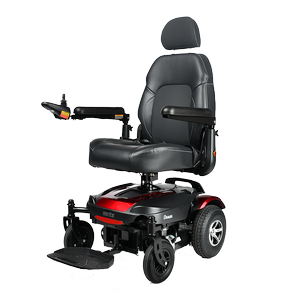 More Information on the Dualer Powerchair
BACK TO TOP
Reviews
Viewing 1 - 12 of 43
Early days, but the chair seems to be working as promised.
10/26/2022
Strengths:
It turns on a dime. It can creep forward very slowly, important to get through tight places. Comfortable. Reversing direction is sometimes helpful, as is adjustable seat height. Very solidly built. I hope they write to me again in 6 mo. or a year so I can be more accurate and detailed. Reviews of others were so important in helping us decide what to buy.
Weaknesses:
It's not small, like a very solid throne, so it feels a bit clumsy in the tight hallways of an old house. Expect it to take all the paint off your door jambs while you're learning to navigate it. It likes to lift up area rugs. Probably more chair than my 98lb. wife needs, though it's nimble for its size.
Reviewer:
alan f. from framingham, ma (caregiver)
User Details:
My wife has a degenerative neuromuscular disease and will be walking less and less, even with a walker. Her disease affects small motor control too.
General seat comfort, charges easily, has 180 degree...
07/17/2022
Strengths:
Sturdiness, swivel capability, charges quickly, arm/width extendibility, reliability so far.
Weaknesses:
Limited elevation capacity.
Reviewer:
dayna t. from bloomington, in (caregiver)
User Details:
A 70-year old female who is an amputee and has numerous other medical challenges.
Best purchase I have made. Super product!
02/27/2022
Strengths:
Ability to swivel, power elevation, lack of third row of wheels, they get caught on things.
Weaknesses:
A little pricy
Reviewer:
judy m. from knoxville, tn
User Details:
I am unable to stand up or to walk. I am in the chair all daY every day. As such, comfort is essential. This is the most comfortable chair I have
Meets my needs completely
02/24/2022
Strengths:
Freedom it gives. Ease of use.
Weaknesses:
Seat needs more padding, can feel metal framework. Add a remote control function to it so I do not have to have an aide with me all the time.
Reviewer:
david a. from anderson, sc
User Details:
78year old 100% disabled US Navy veteran who has been in manual wheelchair for about 5.5 years. As my wife passed away 7/15/2021 needed Dualer.
10/08/2021
Strengths:
Smaller and the 5" is what he needed to transfer
Reviewer:
arthur s. from san antonio, tx (caregiver)
User Details:
86 year old with 4 strokes & Parkinsons. Was having trouble transferring from power chair to recliner. The height provided by the Dualer was great
It is priced about right and performs as promised,
07/25/2021
Reviewer:
don r. from st. george, ut
User Details:
I am 94 years old.confined to a wheelchair.and very mutch appreciate the up and down capability of your product,
Very happy with this chair then others that I have Bought....
06/11/2021
Strengths:
It has a lot of power batteries last great it's comfortable and sturdy. I would buy it again is the only chair I think I will be buying from now on You get a lot for your money with this chair.
Weaknesses:
Nothing that I can come up with. Maybe possibly the seat the sitting part could be a little bit wider and a little bit more comfortable but it's comfortable Towards some other wheelchairs I have had.
Reviewer:
joyce b. from moose lake, mn
User Details:
Not provided
Good quality, does what it is supposed to do. A little wide...
03/02/2021
Strengths:
Easy to maneuver, power seat lifts to allow easier access to countertops and swivels to reduce turning around.
Weaknesses:
Too wide for standard doors, too tall to allow easy transfer.
Reviewer:
stanley h. from fairhope, al (caregiver)
User Details:
My 92 yer old father, amputated leg and congestive heart failure
Everything worked as promised!
02/06/2021
Reviewer:
thomas s. from bridgeport, wv
User Details:
I am a 60 year old male with muscular Dystrophy
the wheelchair is a fine machine- lots of power so it is...
01/08/2021
Strengths:
power, turning ability, ease of use
Weaknesses:
ordered accessory cup holder-twice-neither was custom made for unit as advertised-stink was falsely told time frame of delivery of unit-came two weeks later after numerous calls and lies-very upset about the blatant insincerity and careless attitudes during conversations about the delivery and the cheap cupholder-very pissed about that
Reviewer:
david b. from brownwood, tx (caregiver)
User Details:
male, 86 years, dealt with pneumonia and covid lost most of his strength
Very useful and fun to drive
08/03/2020
Strengths:
Adjustable seat height. Very quiet
Weaknesses:
Nothing so far
Reviewer:
eric l. from the villages, fl
User Details:
83 YEAR OLD MALE WITH LONG TIME DIABETIC NEUROPATHY,A-FIB, HEART VALVE REPLACEMENT,UNBALANCED AND FREQUENT FALLER.
Every feature that I hoped for.
04/19/2020
Strengths:
Quality, versatility, and comfort.White clove technician very good and helpful.
Weaknesses:
Manual is not as clear and complete as it could be
Reviewer:
forrest r. from state college, pa
User Details:
I'm almost 90 years old, handicapped (legs), living in a retirement community and the proud recipient of every major medical risk factor known to man.