Vision Sport
Budget-friendly midwheel drive chair with full suspension and optional power elevating seat.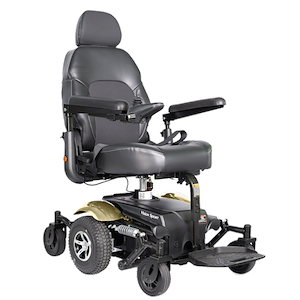 More Information on the Vision Sport
BACK TO TOP
Reviews
Viewing 1 - 9 of 9
10/21/2022
Strengths:
Feels solidly built, very comfortable seat. Moves very fast and turns very tight.
Weaknesses:
Tie down points should be A no charge option. Somewhat difficult to travel without them.
Reviewer:
donley h. from frankfort, mi
User Details:
61 year old male, double amputee.
The Vision Sport is awesome! The lifting seat is the most...
05/21/2021
Strengths:
Lots of power.
Weaknesses:
I wish it had a wireless remote control
Reviewer:
paulina b. from mobil, al
User Details:
Female, 59 yrs, Unable to walk due to balance issues
05/13/2020
Strengths:
looks & feels good
Reviewer:
dennis n. from springfield, mo
User Details:
88 years,parkenson.
Am pleased with performance of product.
07/10/2017
Reviewer:
byron f. from warren, mi
User Details:
86 year old male. Have difficulty walking and enjoy the freedom of getting places with this product. Easy to use and looks good.
Very pleased with the features and ease of operation
04/21/2017
Strengths:
ability to access small places,make tight turns in a small radius and distance of travel
Weaknesses:
small drive wheels
Reviewer:
lester h. from goshen, in
User Details:
He has turned ankles and no arches in his feet keeping him from walking any distance.
Great product. Extremely sensitive joy stick. No assembly...
09/25/2016
Strengths:
Looks nice. Works well. Meets our needs.
Weaknesses:
You MUST include an assembly sheet. Ridiculous to think an older person would just know how to put it together. And every remedy given when I called for help required removing the seat AGAIN. One sheet of paper would have solved every issue I had. Start off with "connect the batteries" then "pull out the wire leading to the joy stick"... You should be able to prepare this instruction sheet in under five minutes and it would make all your customers much happier. DO IT !
Reviewer:
barbara c. from orlando, fl (caregiver)
User Details:
77 year old male, suffers from spinal stenosis. Resulting in weakness and pain in extremities and back. He walks very little and only with a walker.
07/21/2016
Strengths:
Ease of use. Ease of turning.
Weaknesses:
No place to put anything. I got a "wheelchair back pack" and converted it to work on my Vision Sport, works great. I also found a small "saddle bag" style to go over the arms!
Reviewer:
anna c. from tupelo, ms
User Details:
I love my Vision Sport! It sure makes getting around easier, makes short turns easier, MAKES MY LIFE EASIER. Only thing it needs is a drink holder!
07/08/2016
Reviewer:
dale g. from broken arrow, ok
User Details:
Age 83, I have neuropathy.
Comfort, stylish, ease of operation and safety .
02/13/2016
Strengths:
All of the above.
Weaknesses:
Because of health I had to find someone to hook up cord to make wheelchair to work. Did not understand your terms in the directions
Reviewer:
louann h. from gladstone, mo
User Details:
62 year old lady. Spider bite lost right leg below knee. Back injury left leg work injury. Confined to wheelchair . Trying to regain independent livin