Uplift Walker
Get an extra boost of help with a unique handle design.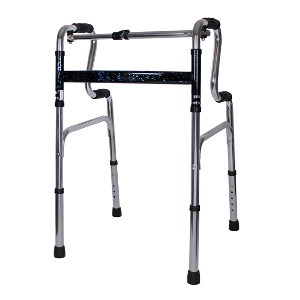 More Information on the Uplift Walker
BACK TO TOP
Reviews
Viewing 1 - 6 of 6
Duel height platform provides wider range of potential uses...
02/02/2020
Strengths:
Duel height platform and strength of product.
Weaknesses:
Its construction results in very loud noises when being used. Each connection is loud enough to wake individuals in proximity to the product when it is being used.
Reviewer:
ciro c. from rex, ga
User Details:
70, disabled, use the product mostly to get in and out of recliner and wheelchair.
01/25/2019
Strengths:
it's not heavy and both sides close with just one finger
Reviewer:
christine e. from chicago, il
User Details:
Not provided
Very pleased with this product.
10/29/2017
Strengths:
This walker is super sturdy and great for standing and sitting. I feel very secure when using it and hope to be walking with it soon. I highly recommend it to others.
Reviewer:
tim b. from lawrenceville, ga
User Details:
I am working go regain strength after being in a hospital bed for a year. I am a large person.
02/08/2017
Strengths:
This works great. It works as a support for the toilet and for walking. The lower handles work with getting off the toilet if you put it up against it.
Reviewer:
edward n. from cocoa, fl (caregiver)
User Details:
Not provided
03/30/2016
Reviewer:
otis w. from aalabaster, al (caregiver)
User Details:
Used by spouse, 83 years of age who, recently broke her hip. The walker is top grade.
Great product for the price.
03/24/2016
Strengths:
Light weight and easy to use.
Reviewer:
buddy m. from san antonio, tx (caregiver)
User Details:
My 87 year old sister in law in Tokyo is the user. The products help her get around in the house and it helps the rest of us get her around outside.